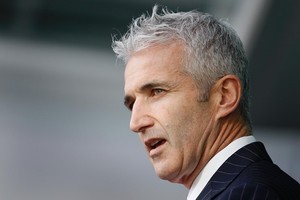 Air New Zealand boss Rob Fyfe hopes to hear this week from regulators about the airline's alliance agreement with Virgin Blue.
The proposed transtasman alliance with Virgin Blue involves collaboration on future route and product planning, code sharing and frequent flyer programme benefits.
Chief executive Fyfe, speaking at the annual Star Alliance chief executive and management board meetings, said there was a December 20 deadline for a decision by the Australian Competition and Consumer Commission.
"We are hopeful that some time later this week we are likely to hear the ACCC decision and we're also hopeful we'll have a Minister of Transport decision here in New Zealand by the end of this week as well," Fyfe said.
The Australian Competition and Consumer Commission in September issued a draft determination proposing to deny authorisation for the alliance.
"Our fingers are crossed that we'll get an approval for that alliance arrangement," Fyfe said.
About 24 chief executives out of 27 member airlines of Star Alliance gathered in Queenstown this week.
Travellers can buy a ticket to a destination which uses a combination of Star Alliance carriers, with bags checked through, earning of frequent flyer miles and access to lounges.
Star Alliance chief executive Jaan Albrecht said 2010 had been a good year with improvement to the network and the addition of two airlines.
Four more airlines are confirmed to join the alliance, which will take the total to 31 members. Alliances were as important today as they were when Star Alliance was formed in 1997, he said.
"Why? Because behind the scenes our industry is so tremendously complex still today," Albrecht said.
"The idea of an alliance will continue being there as long as there will not be any consolidation over the oceans or over the continents."
United Continental Holdings chief executive Jeff Smisek said most people were cautiously optimistic about the recovery. "We'd like it to be faster than it is and we'd like business travel to come back faster than it has but it has come back and it is coming back."
Star Alliance
* 27 member airlines, rising to 31.
* US$150.7b combined revenue.
* 603.8m annual passengers.
* 21,000 daily departures.
* 1160 airports served.