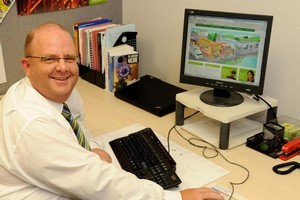 Name: Paul Woolf
Age: 38
Role: Systems design and support manager - training and development, Foodstuffs Auckland
Working hours: 45-plus, primarily Monday to Friday
Average salary: $70,000 - $110,000
Quals: MA (Hons) in Human Geography - Auckland University, NZQA Level 4 Certificate in Adult Education
Describe what you do.
In a nutshell, I am responsible for designing, developing and implementing HR (human resources) processes and systems as well as assisting in the management of recruitment within the support office and managing the HR components of any organisational design work.
Recent projects include project management of Foodstuffs' national careers website, the design and development of Gilmours' trainee operator programme and the design and development of the organisational design (job descriptions, store structures and contracts) needed to transition Gilmours from corporate to owner-operator run stores.
Your history?
After I graduated from university I spent about six months looking for work. I probably applied for about 30 jobs but got only four responses.
When I saw The Warehouse was opening a new store at Botany Downs I applied for the checkout supervisor/manager position because I had worked part-time at the local supermarket while at university. Instead I was offered the in-store trainer job.
Over the next 10 years I went from looking after the training of one store to 18 stores around Auckland. I then moved into head office where I developed various programmes and training materials. My last role there was recruitment manager.
Then I moved to Foodstuffs Auckland where I was employed initially on contract to develop an internal recruitment job board for the Foodstuffs Auckland intranet. At the end of the contract I was made permanent and the rest - as they say - is history. I have been with Foodstuffs nearly five years now and am passionate about working for a business which is so committed to up-skilling and developing its people personally and professionally.
What skills or qualities are important?
You need strong technical writing and business writing skills to be able to quickly develop everything from job descriptions through to developmental programmes.
You need effective questioning skills and the ability to empathise from the perspective of the client to really understand their requirements.
You need technically strong computer skills and a complete understanding of the culture of the business.
You need to be able to multi-task, juggle multiple priorities, project manage effectively, and be strongly systems and process orientated.
What do you mean by systems and process orientated?
This means when looking at tasks or working on projects, you're breaking them down to component parts or steps while also looking at implications, contingencies and risks.
It is also about applying logic and common sense to each step of even the simplest processes to ensure the best outcome. You have to also think about what will actually work in your industry so you're not assessing each step in isolation but making sure you work through the links between the steps and the corresponding implications.
What experience was useful in getting this job?
You need to have worked at the coal face in retail or a similar customer-facing industry to understand what it is like to work from a systems or process perspective.
My eight years part-time at a supermarket and time in-store with The Warehouse were invaluable.
But I also believe the lack of responses to job applications as a new graduate all those years ago has steered my approach and thinking, especially in the recruitment space.
How?
I have tried to learn from the mistakes of those recruiters who received my first applications by making sure what I do is reflective of my own personal expectations when I apply for jobs. I hope even non-successful people who apply for roles with us still have a positive experience.
Best part of the job?
The development of the Foodstuffs national careers website as a tool to aid internal promotions and showcase Foodstuffs to potential external candidates.
Most challenging part?
In these tough economic times it would have to be saying no to candidates who are desperate for employment; you can't help everyone, unfortunately.
How would you define success?
Many ways. I've been successful if someone who has never recruited before successfully hires someone or fills a vacancy, or a restructure or reorganisation is completed within the values and culture of the business so even those affected go away feeling they have been treated fairly regardless of the outcome. Success is also about being seen as a business partner - not a business barrier. It's also about educating people in different ways of doing things.
Advice to someone wanting to do same thing?
Attending lots of HR courses won't necessarily improve your success unless you thoroughly understand the business and industry you work in.