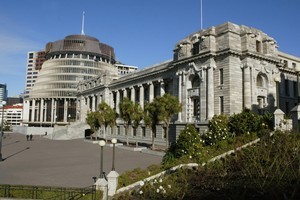 Finance Minister Bill English has foreshadowed a New Year review of government spending following news the government ran a NZ$4.4 billion operating deficit before investment gains and loses (OBEGAL) in the four months to October 31.
This was NZ$1.9 billion higher than expected, Treasury said this morning.
This means the government has been running a deficit equivalent to NZ$275 million a week for the last four months and faces an election year budget weighed down by deficits and the potential for a sovereign credit rating downgrade.
The higher-than-expected deficit came as tax revenue was NZ$1.1 billion, or 6.3 per cent, lower than forecast in the May 2010 budget.
"In the New Year the Government will consider further decisions around how to increase efficiency in the public sector and how it manages some of its large and growing expenses," English said in a media release on Monday morning.
"This will be assisted by report of the Welfare Working Group, the Government's review of spending on policy and the ongoing response to
The tax take was hit by lower corporate tax and lower GST receipts than expected, showing a weak economic recovery as households and businesses try to reduce the amount of debt their balance sheets.
"Overall, an underlying weakness remains in private consumption, with households exercising greater than expected spending constraint," Treasury said.
The deficit was partly reversed by a stronger-than-expected performance of the government's investment portfolios, Treasury said.
New Zealand Super Fund gains were NZ$1.1 billion higher than expected during the four months to October, while net gains made by the ACC fund were NZ$287 million above forecast.
Overall, the Crown's operating balance deficit was NZ$450 million higher than forecast, at NZ$2.2 billion, Treasury said.
The government is facing calls for a tough budget in 2011 as its deficit blows out due to the lower-than-expected tax take. Prime Minister John Key has said the next budget will be focussed on "savings and investment" although there are so far not many indications on what the government will do to get its balance sheet back to surplus.
There were suggestions last week that one measure could be to cut government Kiwisaver contributions, while Treasury has also done research on government spending caps.
This comes after Standard and Poor's last month warned the government that New Zealand needed to improve its savings record by placing its AA+ credit rating on negative outlook, suggesting a 30% chance of a downgrade in the next few years.
The government-appointed Savings Working Group is due to report back in the New Year on ways New Zealand can improve its savings performances. It has previously said the earliest gains would be made from Public Sector savings, although has warned that corrective measures were likely to be challenging.
The government last week came under further pressure from former National Party leader Don Brash, who is gaining traction with his calls for government to sell state owned assets and cut expenditure.