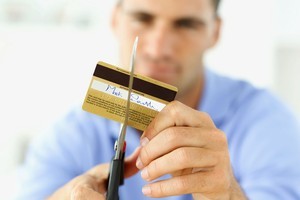 We're officially out of recession. Tell that to the steady stream of financially stressed people making their way to mortgage brokers (and debt counsellors) and you might get a string of expletives in reply.
Sheryl Moyle, broker at New Zealand Mortgage Finance, has noticed a steady stream of clients suffering from financial stress - more so than at the height of the recession.
"It is causing health issues and marriage breakdowns," says Moyle, who has heard the same story from other brokers.
The debt that is causing the stress may be mortgage, business or consumer debt - or a combination, she says.
One couple Moyle dealt with this year had their accounts frozen by their bank after slipping a couple of thousand dollars over their overdraft limit - to pay for urgent cancer treatment for the wife. "They had heaps of equity in the home," says Moyle, who was somewhat surprised at the bank's inflexibility and lack of empathy.
Another couple was "going along tickety boo" financially until the wife took maternity leave, then lost her job. Left on one income, they were on the verge of the losing their home to a mortgagee sale before Moyle helped them.
Another problem Moyle sees is property investors who can no longer refinance when necessary.
Mortgage debt is usually considered to be "good debt". But it isn't when the person owing it is too heavily leveraged and doesn't have reserves to cope with even the smallest of economic upsets.
This week she dealt with a couple who had secured short-term funding for their investment properties, but were needing to refinance. In the current mortgage lending climate they weren't an attractive proposition to the major banks because of their level of mortgage debt - and had no option but to liquidate assets.
Whether a family gets into debt or not isn't always a factor of income, as the Families Commission pointed out in its 2008 Beyond Reasonable Debt report.
"Disposable income seems to be irrelevant to whether one gets into debt, but it is a moderate predictor of how far one gets into debt and an important predictor of how much one repays."
A person is more likely to get into debt, says the commission, if they feel they are not in control of their own life and actions, base their aspirations on comparison with others, or have poor self-control and a tendency to be impulsive.
Research quoted by the commission suggests various psychological factors may be involved in individuals and families becoming financially overcommitted, such as:
* Cognitive errors, where people make bad choices because of limited information-processing capability of the human brain.
* Motivational errors - for example, where people try to maintain a particular image of themselves despite their financial circumstances and
* Deviance, such as obsessive-compulsive or addictive behaviours.
Some of those suffering debt problems at the moment, such as property investors, may have been caught unawares when the finance company they held mortgages with collapsed and the loans were called in. Or it may have been that when they needed to refinance, the loan-to-value ratio accepted by lenders as the norm in the past had dropped significantly, meaning they no longer qualified for mortgages.
Either way, what would have been seen as healthy debt in the past, suddenly becomes a problem debt.
Things are still bad in borrowing land. According to the Reserve Bank's November financial stability report, the level of "non-performing" loans by banks rose from 0.3 per cent of total bank lending in June 2007 to 2 per cent in June 2010. Further increases are expected in some sectors into 2010, according to the bank.
How much debt is too much debt depends on the individual. If you're paying more than 40 per cent of your gross income on debt then you are probably in financial distress.
Other tell-tale signs, according to the Families Commission, are:
* You can't keep up payments for utilities, mortgage, rent, hire purchase or credit cards.
* You have borrowed money from family or friends to meet everyday living costs.
Debt is certainly a practical problem if you're about to default on it. It can also be a huge psychological problem that, as Moyle points out, breaks up families and causes stress and anxiety.
Many heavily indebted people go into denial. They may know consciously how much debt they have, but denial allows them to fail to see the impact it is having on them or people around them.
Psychologist Sigmund Freud saw denial as a defence against the reality that people face. Debt is the habit and denial the coping mechanism.
Confronting your debt is hard, but essential if you want to solve the problem. The Retirement Commission's sorted.org.nz website has a number of debt aids, such as its Get out of Debt and Repayment options calculators.
I like the debt test quiz on British government-sponsored website Moneymadeclear.org.uk. There are other enlightening quizzes at Thisismoney.co.uk and Smartmoney.com.
The point of taking such a test or quiz isn't just to tell you how much you owe. It's to reflect on the questions you're being asked. The Thisismoney.co.uk test, for example, asks questions such as:
* Have you spent up to your limit on more than one credit card?
* Do you regularly exceed your bank overdraft to the extent that you are not in credit when you are paid?
* Would you have to borrow money to cope with a financial emergency such as central heating breakdown (or, in a New Zealand context, a car breakdown)?
* Do you frequently have arguments at home about money?
Being in debt can affect family members in different ways. The effect on children shouldn't be underestimated. Children can pick up on money worries from a young age and be psychologically affected for life. Parents with out-of-control consumer debt are teaching the next generation bad money lessons. If mortgage or business debt is out of control, this can have the same effect.
Debt also affects people's health. Prescriptions for anti-depressant medications reached a record high during the height of the recession, Pharmac figures show.
There's anecdotal evidence that community, primary and mental health service use has risen because of financial factors, according to Te Pou, the National Centre for Mental Health Research, Information and Workforce Development.
International evidence cited by Te Pou indicates the rate of psychological problems is twice as high among unemployed compared with employed people (34 versus 16 per cent).
It's a vicious circle. Money woes can impact mental health, and mental health problems make managing money more difficult, according to MIND, a British-based mental health charity. The impacts can include:
Your capacity to make financial decisions is affected, leading you to act recklessly or unwisely.
Losing motivation or ability to control your finances.
Being unable to work.
Sorted.org.nz has a Managing Debt section at: Sorted.org.nz/home/sorted-sections/managing-debt.
The Ministry of Health publication Coping With Financial Stress can be found at http://tinyurl.com/2fmdp5h