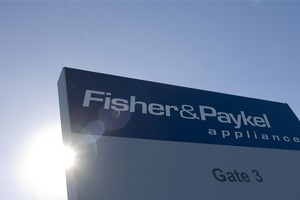 Fisher & Paykel Appliances turned to a first-half profit, from a year-earlier loss that included one-time charges to reorganise its global manufacturing and write down assets values.
Sales weakened in the latest period, driven by poorer returns from North America and Europe.
Net income in the six months ended Sept. 30 was $11.3 million, or 1.7 cents a share, from a loss of $82.4 million, or 16.3 cents a year earlier, the Auckland-based company said in a statement today. Sales fell to $549.9 million from $584.5 million.
New Zealand was the most volatile of Fisher & Paykel Appliances' markets, said company chief executive Stuart Broadhurst.
"I don't think anybody wants to spend any money,"he said. "We've seen demand [in New Zealand] down in June, July and August [by] 10 per cent on the year before."
He said there had been a "buy-up" of appliances in this country prior to the GST increase on October 1.
"But most of that, from what retailers tell me, has been given away already," Broadhurst said.
The manufacturer of fridges, ovens, washing machines and driers took $107 million in one-time costs, writedowns and impairments in the year-earlier period, when it shifted plants to lower-cost countries and nearer to export markets, restructured its debt and eliminated jobs. The changes are beginning to bear fruit, with the company's gross margin rising 4 per cent to $140.8 million, helped by a more favourable exchange rate.
"Our balance sheet position has strengthened, however appliance market conditions remain challenging," said chief executive Stuart Broadhurst.
The company lowered its guidance for full-year earnings and now expects earnings before interest and tax of $63 million to $70 million, from the $78 million it forecast at its annual meeting.
The company's appliances unit reported a 7 per cent decline in operating revenue to $476 million, while EBIT climbed 18 per cent to $6.8 million. For its finance unit, EBIT climbed 52 per cent to $18.9 million, reflecting growth in interest and fee income and lower bad debts.
The shares fell 1 cent to 60 cents. In the past three months, the shares have surged 18 per cent, outpacing an 8 per cent advance in the NZX 50 Index. The shares are rated 'outperform' based on the consensus of six recommendations compiled by Reuters.
with CHRISTOPHER ADAMS