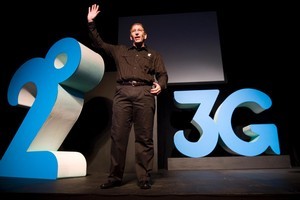 Shareholders in Two Degrees Mobile have dug deeper into their pockets to inject more cash into the country's newest mobile phone operator.
Major shareholders Trilogy International New Zealand, Tesbrit and Hautaki Trust pumped in some US$23.5 million, though two issues of 13 million shares and 18.3 million shares at 75 US cents apiece, according to documents lodged with the Companies Office.
Director of corporate affairs Mathew Bolland told BusinessDesk telecommunications is a capital intensive industry with high entry costs that need a constant investment, though he wouldn't elaborate on whether the funds were going into capital or operating expenditure.
"Investment early on was always going to exceed profit, but it's in line with expectations - our shareholders are happy to provide it," Bolland said. "It's a $2.4 billion industry and the rewards are real."
That takes the total injection from shareholders to almost $44.5 million after Trilogy, Tesbrit and founder Tex Edwards' KLR Hong Kong bought shares in May and June to help fund the roll-out of its 3G network. The phone company lost $52 million in the nine months through December 2009.
Though Hautaki participated in the latest two issues, its holding was further diluted to 10.3 per cent of the company. 2degrees grew out of a controversial government decision 10 years ago to give Maori the right to buy a third generation radio spectrum frequency at a discounted price.
The phone company entered the market last year and managed to secure 206,000 customers, or 4.5 per cent of the market in its first six months. Since then, growth has slowed, though it's probably been the major beneficiary of more than 286,000 mobile customers taking their phone numbers to a rival network.
Major mobile phone players Vodafone New Zealand and Telecom lost 35,000 and 19,000 customers in the three months through September.