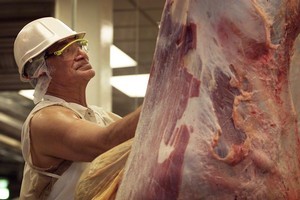 Meatworkers trained to look over carcasses after slaughter have been failing to detect defects in meat, which has United States importers worried, the union representing meat workers says.
A six-month-long trial has begun at Wanganui meat plant Affco Imlay where meatworkers are carrying out inspection tasks normally done by independent government meat inspectors.
New Zealand Public Service Association national secretary Richard Wagstaff said it was revealed on the first day of the trial that the US would not accept meat from the company, despite assurances that export partners had been informed and approved of the trials.
"We're hearing from our meat inspector members who've been observing the trial that the meat company 'inspectors' are failing to detect defects, disease and faecal matter.
"That's hardly surprising given that they've only had two or three days training. Independent meat inspectors thoroughly train for twenty weeks," he said.
Trials are also due to start at Alliance Mataura (Southland) and Silver Fern Farms' Pareora (Timaru) in which meatworkers take responsibility for finding and removing "chronic and or localised abnormalities" in sheep meat.
Mr Wagstaff said the trials were timed so that the meatworkers were dealing with 12-week-old spring lamb, but when older meat started coming in their ability to detect defects would be severely challenged.
"These trials have been rushed through with a lack of consultation with our members and New Zealand's trading partners all because the Ministry of Agriculture and Forestry and its Food Safety Authority want to rush through their vision of deregulation that is supported by the meat industry.
"It goes without saying that New Zealand's export industry depends on our meat and agricultural production. The meat industry alone is worth nearly $6 billion. Independent meat inspection costs a fraction of this expenditure."
New Zealand Food Safety Authority director of market access Tony Zohrab said last month the new inspectors would have to be trained so that they could identify and, if need be, remove material.
"We're not moving away from Government inspection. The animals still will be inspected, but companies will be allowed under the trial protocol to remove certain suitability defects.
"But we're going to need government inspectors into the foreseeable future, irrespective of the results of these trials," he said.
- NZPA