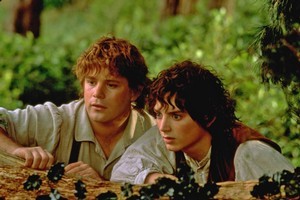 When union bosses Simon Whipp, Frances Walsh and actor Robyn Malcolm emerged from a restaurant around midnight on Wednesday, a group of Wellington film workers were waiting for them.
"Simon, why are you targeting The Hobbit? These are the lives of everybody in the New Zealand film industry," a voice is heard asking on footage posted on website YouTube.
"Why did you call for a boycott without getting the support of New Zealand actors?"
Mr Whipp walks stoically without answering as questions and pleas for answers are repeated.
Robyn Malcolm eventually steps in and says: "It is entirely inappropriate for anybody to speak at midnight ... this is actually harassment now."
Someone responds: "This is our livelihood."
The clip highlights the deeply felt anger and high stakes involved in the row over The Hobbit. Hours earlier, up to 1500 film workers, including actors, had followed Weta boss Sir Richard Taylor through Wellington venting their frustration at the prospect of losing the US$500 million ($670 million) films overseas.
Much of this frustration was aimed at Mr Whipp, head of the Australian-based Media, Entertainment & Arts Alliance (MEAA), of which NZ Actors' Equity is a branch.
Mr Whipp has been silent on the recent developments and was unavailable for comment yesterday.
Among the Wellington marchers was production co-ordinator Danielle Prestige, who said keeping The Hobbit in New Zealand was pivotal to the future of its film industry.
"We've just had two years of recession where a lot of colleagues have lost their jobs or had jobs at risk, films have fallen over. Everyone's on the edge.
"[The Hobbit] is pivotal. It's the one film that will revitalise it to the point it was like with Avatar and give people the longevity of work. That's why we decided to march. We don't want our livelihoods threatened."
The dispute started when overseas-based actors' unions united to boycott The Hobbit until the producers negotiated with the MEAA.
But the International Federation of Actors, which helped to orchestrate the boycott, had demanded a "collective bargaining agreement", which Warner Bros said it could not legally do after advice from the Attorney-General, Chris Finlayson, that it would amount to price-fixing.
Warner Bros confirmed yesterday it would continue to refuse to negotiate and was looking at different locations, while Sir Peter Jackson said he was told this week to stop hiring Kiwi actors, which he felt was a sign the films were slipping away.
The final decision will be with Warner Bros executives, and Prime Minister John Key is promising to do everything he can to keep the project in New Zealand.
He is taking advice on how labour laws might be changed to allay the fears of Warner Bros, not only about more industrial action but also about a Supreme Court ruling - where a Weta Workshop modelmaker was deemed an employee, not a contractor - that could see actors taking up disputes in mid-production.
The ruling found that even if a worker is called a contractor in a contract, that worker can be deemed an employee if that is the real nature of the job. Collective bargaining with employees who are performers is not illegal, but it is if they are independent contractors.
The Government pushing up the level of tax rebate from 15 per cent is also a possibility, which would be worth $50 million to $60 million.
Meanwhile, industry insiders have questioned how much losing the location shooting would cost New Zealand.
Films usually go through pre-production, location shooting and post-production stages. While many expect pre-production and post-production to still be done in Miramar, this has not been confirmed.
The tax rebate is also under scrutiny. Other filming locations such as Ireland (up to 28 per cent) are higher.
Producer Chloe Smith, who is working on Spartacus with American Rob Tapert, said the level of rebate was no longer competitive but New Zealand had other factors in its favour including the reputation of film-makers such as Sir Peter.
She said every production's budget would break down differently, and the level of post-production depended a lot on the level of visual effects.
The spending on Spartacus, for example, was soaked up by location shooting; pre-production made up 18 per cent of the budget, while post-production was 17 per cent.
Almost half of the total spending was labour costs, covering not only 64 actors but also crew, casuals, extras and security.
NZ Equity head Ms Walsh said the union's "back of the envelope" calculations showed its demands would have cost Warner Bros less than 1 per cent of the total budget for The Hobbit.
Council of Trade Unions boss Helen Kelly said higher tax incentives could keep the filming here.
It would not be surprising, she said, if Warner Bros used the union dispute to squeeze the Government.
The unions have lifted the boycott and given assurances no industrial action will take place if the films are made here, having negotiated successfully with the Screen Production and Development Association.
But Sir Peter fears none of that matters any more and union assurances have little credibility.