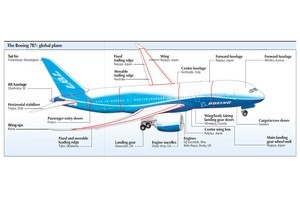 In Korea, it is important to mark significant events with a sign. "Boeing 787 Asia-Pacific Supplier Media Tour" is the announcement on a banner strung across a seminar room wall as journalists arrive at the Korean Air Technical Centre in Busan.
During the factory tour, we line up behind a similar announcement to have our picture taken with a pair of the wing tips the company manufactures for Boeing's much-anticipated new plane, the 787 Dreamliner.
We are shown a similar photo of the Korean Air staff responsible for making the first composite part for the 787 in 2006.
This is not merely Asian formality in overdrive. The Dreamliner is a big deal to the thousands of suppliers around the world making components and to the 55 customers lined up waiting for the new-generation aircraft.
Sehan Kim, senior vice-president of Korean Air's aerospace division, says the company has made parts for 800 of Boeing's 777 airliners and for 3000 737s. "Compared to that, the 787 [project] will be much bigger because it will be higher production."
Within five years, 30 per cent of the division's workload will be the 787, he says.
This is because Boeing plans to ramp things up to the point where it is producing 10 Dreamliners a month by 2013.
With orders for 847 already in the pipeline - including eight of the 787-9 model bound for Air New Zealand - and following almost three years of delays, it is a gargantuan task. Korean Air opened a factory in August to support the 787 rate ramp-up.
Kawasaki Heavy Industries in Nagoya, Japan, which makes a piece of the forward fuselage, the landing gear wheel well and the fixed trailing edge of the wing, has also constructed a second plant ready for the upscaling in production.
Kawasaki is focused on lean efficiency, says George Maffeo, Boeing vice-president of 787 supplier management.
It practises "kaizen" (change for the better) techniques, part of a philosophy of continuous improvement. Staff involved in kaizen wear a different-coloured helmet at Kawasaki.
But all Boeing's suppliers have their eye on quicker and more efficient production.
At nearby Mitsubishi Heavy Industries, where the wings are made, the company has been ramping up the process incrementally to check if the higher production rate works.
"A lot of effort has been put into this," says site leader Alan Crowder.
Beset by all manner of delays, from technical problems to strikes, Boeing now has a 24-hour Production Integration Centre in Seattle overseeing the activities of its suppliers.
Maffeo says Boeing is more than pleased with the systems. Five 787s are being flight tested and are "racking up the hours like there's no tomorrow".
But the rate of production is a sensitive subject. The suppliers we visit are not allowed to tell us how many components they are producing a month. "[The suppliers] are doing exactly what we have asked them to do and they're delivering to our master schedule," is all Maffeo will say.
AIR NEW ZEALAND is the launch customer for the 787-9 - the stretch version of the Dreamliner - but not until late 2013. Japan's ANA is due to get the first 787-8 early next year, and the first one to be seen in New Zealand skies will be flown by Continental when it begins an Auckland-Houston service in November next year.
The aircraft created international headlines when it made its public debut at the Farnborough air show in the United Kingdom in July.
So why is this plane, described as a game-changer and a quantum leap in air travel, such hot property?
More than half of Boeing's first new passenger jet in a decade is made of composites - carbon fibre overlaid with resins.
Composites are significantly lighter and stronger than aluminium, so the aircraft is 20 per cent more fuel efficient than any equivalent 777. Components such as the wing skins and barrels of the forward fuselage can be created in one piece, without needing to assemble segments. And for the passenger, jetlag is set to become a thing of the past.
The cabin can be pressurised at a lower altitude - 6000ft instead of 8000ft. The composites mean fewer corrosion problems so humidity on the plane can be increased from virtually zero to 15 per cent.
And it has much bigger windows and dimmers instead of shades, and LED lighting that can replicate sunrises and sunsets.
It is also up to 60 per cent quieter. At Farnborough, "I honestly didn't think they had enough power on board because it was so quiet", Maffeo says.
The production style is also groundbreaking. It is "the plane that globalisation built", says Jon Ostrower of Flight magazine.
Boeing has a team of more than 50 "first-tier" suppliers on three continents that manufacture parts. Thousands of other second-tier suppliers feed into the process.
The concept is a "plug-and-play" aircraft - the parts arrive in Seattle where they are fitted together and Boeing hopes to be able to construct a 787 within four days.
While competitor Airbus also has a raft of suppliers worldwide making the 787's nearest rival, the A350, no other aircraft has ever been the result of such a truly global project.
It is the first time the wing, considered an art form in aviation circles, has been made outside the United States, says Ken Morton, head of communications for Boeing Asia-Pacific.
This is all impressive but why should an airline such as Air New Zealand spend $1.68 billion on flash new planes?
"It brings long-haul, high-density cost-per-seat into a medium-density plane," says Morton.
Previously, if you wanted to fly to Los Angeles you had to do it in a 747-400 - you ended up with 400 seats whether you wanted them or not.
The 777 was Boeing's first medium-density plane. The 787 - with 240 seats in the dash-8 model and 280 on the dash-9 - comes in underneath the 777 in size but not in range, he says.
"It will enable non-stop flights on what we call 'long thin routes'. [And] we believe non-stop frequency drives traffic growth."
It means it is easier to take a punt on a new route, says Air New Zealand's Ed Sims.
"You can take commercial risks when you're thinking about 260 passengers in a way that you can't necessarily when you think of the jumbo jet."
The international airline group general manager says Air New Zealand has gone for the 787-9 because of the extra 500 nautical miles in range it provides.
This opens up a whole new vista for the carrier - Chicago, Mumbai and Sao Paulo are all potential destinations. "It brings pretty much anywhere in the Asia-Pacific rim within non-stop [flying distance]," says Sims. "All of those are viable and possible and all under a pretty tight microscope for us at present."
But Sims does not underestimate the cost of the lengthy delays in the 787 programme.
The airline's drive to develop new products such as the lie-flat economy Skycouch, dubbed "cuddle class", by the end of this year was part of its original plan to have its new 777-300s and 787s delivered simultaneously. He says the cost is in the "tens of millions".
It is now refitting its 777-200 fleet with the same product as the 777-300s. "We probably wouldn't have gone down that road and all of that expense had it not been for the delays.
"I'm phenomenally disappointed, mostly because [the delays] have limited our new route development and the ability to grow at a rate that we wanted to."
More than half of Airbus' A350s will be made of composites, with 25 per cent better fuel efficiency and a quiet cabin. But the first one is still three years away.
For Sims, the ultra long-range, fuel-efficient 787 is still where it's at for a tourist destination at the bottom of the world.Maria Slade travelled to Asia courtesy of Boeing.
Simulator puts you in the pilot's seat
I have landed a 787 in Auckland. Well, almost.
The aircraft has never flown in New Zealand skies and I'm not a pilot, but these things don't matter in the fantasy world of the flight simulator.
The seven full-flight simulators sitting like giant triffids at Boeing's Training and Flight Services campus in Singapore would be a gaming addict's nirvana.
I do sneakily feel like Captain Kirk commanding the Starship Enterprise as I sit in the instructor's seat behind the two pilots.
But I do not anticipate the sensation of an actual plane. I drop my pen when the (real) Captain Natarajan Nathan takes off from Changi Airport (simulated).
He demonstrates the multitude of flight conditions the aircraft can experience - wind, rain, lightning or falling snow.
Then he invites me to be his co-pilot. Where shall we land? Auckland, I blurt out.
Auckland ... he searches for the code. Suddenly a vista of the Manukau Harbour with Rangitoto in the distance appears before us. We see boats on the water and the towers of the CBD. No Sky Tower though, that's an oversight.
Scarily, I am now in control of a commercial airliner.
"You're doing very nicely," Captain Nathan says, "but see those lights to the left of your screen? You're about to miss the runway.
"You fly by finger."
Apparently there's a bit more to this than a computer game.