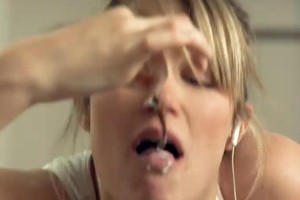 Greenpeace has fired another shot at dairy giant Fonterra in a video calling for an end to its use of palm kernels, which the group says contributes to the destruction of rainforests.
The video, which was uploaded to the Greenpeace New Zealand website yesterday morning, is dubbed The milk ad they don't want you to see and has already attracted hundreds of viewers, via YouTube.
It shows a woman coming home from a jog.
Inside the house, she heads into the kitchen and opens the fridge, before pulling out a big bottle of milk marked clearly with a label reading: "Fonterra milk."
She pours herself a glass and begins drinking and then almost immediately begins to choke.
Gagging, she reaches into her mouth and pulls out what appears to be a red orang-utan hair.
A shot of an orang-utan is shown before the camera cuts to shots of large trees being cut down, before the words "Fonterra's use of palm kernel fuels rainforest destruction" appear on the screen.
Last night, the company slammed the video as an "appalling" publicity stunt.
Spokesman Graeme McMillan said it was shocking.
"From our perspective, it's another publicity stunt by Greenpeace - just another publicity stunt - and I think New Zealanders will see straight through it.
"It's designed to shock," Mr McMillan said.
The video, on the Greenpeace home page, calls for people to "take action" against Fonterra.
The company imports palm kernel as stock feed and is also linked by the organisation to deforestation in Southeast Asia.
Climate campaigner Simon Boxer said the the aim was not for the public to boycott Fonterra products, but to get them to change company policy.
"It's more about taking action, writing to Fonterra, giving them a more direct approach and telling them that this is not okay."
He said New Zealand was one of the biggest importers of palm kernel, because it was a much cheaper option, and said doing so was killing off large sections of the world's rainforests.
"We feel that there is a big responsibility by big corporate companies to make a difference."
ON THE WEB