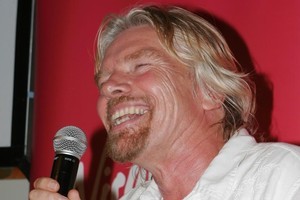 Virgin Group, founded by UK billionaire Richard Branson, formed a partnership to spend as much as US$500 million ($678 million) on high-end hotels over the next three years, banking on brand recognition to lure affluent clients.
Virgin Hotels, intended as a four-star chain, will cater to "high income, well-educated, metropolitan 'creative class"' customers, according to a brochure on its website.
The company said it's seeking hotel sites in such North American cities as New York, San Francisco, Miami and Los Angeles, and plans to expand globally later.
The plans come as business and leisure travel rebound, helping the US lodging industry recover after the recession sent occupancies to a 30-year low in 2009.
Revenue per available room, or revpar, in the top 25 US markets rose to US$73.87 during the first half from US$71.08 a year earlier, according to Smith Travel Research of Hendersonville, Tennessee.
"We're very encouraged by the number of hotel transactions we've seen this year," Anthony Marino, an executive director of the new venture, said.
"Compared to last year, it's like night and day. There are a lot of properties out there that were developed in 2007 that are now opportunities for us."
Virgin, which plans to have as many as 25 hotels within a decade, will have to compete with such established hotel chains as Starwood Hotels & Resorts Worldwide, owner of the high-end W and St Regis names, and Marriott International, which has the JW Marriott, Ritz-Carlton and Renaissance brands.
"There are a lot of brands out there," said David Loeb, an analyst at Milwaukee-based Robert W. Baird. "It's tough to get a share in this market. It helps to have a globally recognised name like Virgin does, but it's not a cakewalk and not an obvious transition."
Virgin Hotels will be overseen by Marino, with Virgin Group since 2006; president and chief operating officer Raul Leal, previously president of Desires Hotels; and Paul Whetsell, an executive director who founded CapStar Hotel.
Virgin Group, based in London, said it formed a partnership for the acquisitions with Alberto Beeck, a Florida-based entrepreneur and silver-mine investor, and Diego Lowenstein, chief executive officer of Florida-based Lionstone Development.
Virgin Hotels, whose properties will range from 150 to 400 rooms, will operate as a third-party manager, team with owners or acquire the properties directly.
"It is a competitive market with very savvy competitors," said Marino.
"But if you look at Virgin's history, we have come into markets with big powerful players, where customers are generally satisfied but not in love, and we have been able to cut through that."
- BLOOMBERG