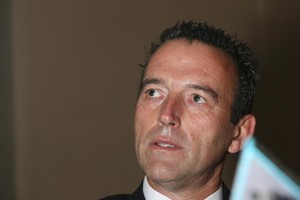 Never mind the credit drought, Graeme Hart is sticking with his longtime strategy of heavily leveraging his business deals, borrowing as much as US$5 billion ($7 billion) to help pay for its acquisition of Pactiv.
The US packaging group makes rubbish bags and takeaway containers for McDonald's and Starbucks.
Credit Suisse Group, HSBC Holdings and ANZ Banking Group agreed to provide the debt, Pactiv revealed in a regulatory filing. If the banks provide the full amount, Rank Group would finance 83 per cent of the US$6 billion takeover with borrowed money.
Certainty about Hart's ability to secure the finance appears to have given him the edge over rival bidders.
The per-share price of the deal was US$33.25 - 39 per cent more than the US$23.97 close on May 14, before talks were disclosed. Rank Group will assume about US$1.5 billion in debt, valuing the transaction at about US$6 billion, according to Pactiv spokesman Matthew Gonring.
The acquisition is the biggest deal for Hart, whose holdings also include the world's second-biggest drink-carton company SIG and the maker of Reynolds Wrap foil.
"Volume plays a very important part in packaging," said Joe Leong, a Melbourne-based food and packaging analyst at BIS Shrapnel, a provider of industry reports and forecasts.
"Plastic packaging is a very technology-driven, capital-driven industry. You need to have the production capacity."
"The price looks reasonable," Claudia Shank Hueston, an analyst with JP Morgan Securities, said in a research note.
"The quality of the bid, the secured financing and what appears to have been a fairly long vetting process will likely keep opposing bids at bay." The New York-based analyst, who rates Pactiv "overweight," anticipated an offer of US$28 to US$36 a share.
The financing includes equity from Rank Group and Reynolds Group Holdings, as well as the debt financing from Credit Suisse, HSBC and ANZ.
"Pactiv is an outstanding company," Hart said in a statement. "It is a clear leader in its markets as a result of its broad product line and unique distribution system."
Hart's purchases over the past decade include US$2.5 billion for Swiss drink-carton maker SIG and US$2.7 billion for Alcoa's packaging business.
Hart last year combined some of his acquisitions into a new corporate entity, Reynolds Group Holdings, with €2.8 billion ($5 billion) in sales in 2009.
Credit Suisse acted as lead financial adviser to Pactiv, while Perella Weinberg Partners served as an independent financial adviser to the Pactiv board.
- BLOOMBERG