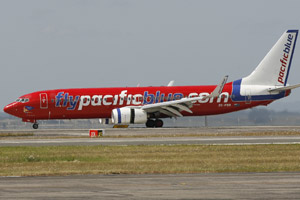 Pacific Blue is to stop flying domestic routes in this country and redeploy its New Zealand-based aircraft on to the trans-Tasman and medium haul international routes.
The decision is included in the first phase of a network review by the Virgin Blue Group of Airlines.
Virgin Blue chief executive officer John Borghetti said passengers holding forward bookings on New Zealand domestic routes from October 18 would be provided with re-accommodation and refund options.
Pacific Blue spokesman Phil Boeyen said that by the time of the last domestic services on October 17, Pacific Blue would have been flying domestically for nearly three years.
It had 106 flights a week between Auckland, Wellington, Christchurch, Queenstown and Dunedin.
It had been difficult to make any money on the New Zealand domestic routes, Boeyen said.
The company was pleased with its impact on the market in terms of bringing low fares to domestic travel, but the yields were not sustainable.
"It's very difficult to made money on flights that are cheaper than the cost of the taxi to the airport," said Boeyen.
Aviation analyst Rob Mercer of Forsyth Barr said he was not surprised by today's news.
The New Zealand market wasn't big enough to support three domestic carriers and today's news seemed to confirm that, he said.
"If you are going to offer a discounted carrier service with a few flights a day, you need to be sure you are getting higher utilisation," he said.
The operator would probably now look to increase profitability on its Australian domestic services routes after Virgin Blue posted an operating loss in the second half of 2010.
Air New Zealand has just issued a press release saying it will carry "disrupted Pacific Blue passengers".
"Pacific Blue contacted us this morning to see if we could carry their disrupted passengers," said Air NZ group general manager for Australasia Bruce Parton.
"We have confirmed that we're able to re-accommodate their customers and understand Pacific Blue will soon contact passengers to discuss their options."
Passengers will be able to be rebooked onto Air New Zealand services as close to their currently booked departure time as possible.
"In addition to carrying Pacific Blue passengers, we will be offering each passenger free membership to our Airpoints programme," says Parton.
"It is a concerning day for thousands of air travellers and we hope that the spirit we have shown will quickly ease any concerns they have about connecting with family, friends or business colleagues."
Pacific Blue said it was confident about its trans-Tasman operations, which was where it had started in 2004.
The company confirmed it would be adding capacity to routes "with strong revenue potential" and removing capacity from services which were underperforming.
Increasing capacity on trans-Tasman routes would lead to a rise in New Zealand-based staff.
Pacific Blue now employed around 450 New Zealanders at crew bases in Christchurch and Auckland and its head office in Christchurch. The increase in international flying meant up to 100 new jobs would be created.
Under the changes Pacific Blue's Brisbane-Hamilton service will increase from three to four flights a week, Brisbane-Dunedin services will increase from three to four flights per week, and the Christchurch-Melbourne frequency will increase from four flights per week to a daily service.
Virgin Blue and New Zealand's national carrier, Air New Zealand, are seeking regulatory approval for an alliance on trans-Tasman routes to offer lower fares, code sharing and reciprocity on loyalty schemes and airline lounges.
The tie-up has been widely attacked as heralding a loss of competition for consumers, and today's announcement leaves the field clear to only two mainstream domestic airlines, Air New Zealand and Qantas budget carrier Jetstar.
On the inaugural domestic flight for Pacific Blue then Virgin Blue chief executive Brett Godfrey said he was delighted to finally launch a domestic service in New Zealand.
"We are not trying to undermine anybody. We genuinely believe that New Zealanders have been paying far too much for domestic air travel for far too long," he said.
Godfrey said Pacific Blue would concentrate on the main trunk routes initially but did not rule out a move into regional routes in the future.
"I think the fares in regional New Zealand are horrendous and we plan to address them as well."

Pacific Blue in the news
The Civil Aviation Authority (CAA) is investigating Pacific Blue after a Sydney-bound flight took off from Queenstown outside approved flying times at the airport, potentially endangering 65 passengers and six crew on June 22.
Planes must depart no later than 30 minutes before twilight from the airport, which is surrounded by mountainous terrain and has no radar or runway lights.
The investigation is ongoing.
The Transport Accident Investigation Commission (TAIC) has been investigating a June 20 incident in which Pacific Blue and a Qantas aircraft traveled too close together in what is known as a "loss of separation" incident.
Tim Burfoot from TAIC said the matter is still under investigation. He said the investigation involves a second airline and air traffic control in Queenstown.
- NZPA / NZ HERALD / BUSINESSDESK