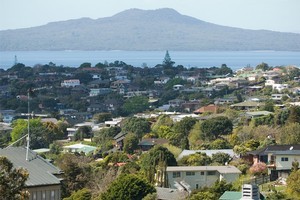 Auckland house prices held firm in July, but the number of sales slipped, according to new numbers from the region's largest real estate firm.
Barfoot and Thompson's latest monthly figures showed the Auckland market had "found its winter 'ticking over' point", said managing director Peter Thompson.
"Properties are continuing to sell, particularly if they are priced to meet the market, while there is a steady stream of new listings giving buyers a good level of choice.
"It's a typical situation that can develop in mid winter, especially during periods when economic activity is quiet.
There were 644 sales in July, down 21 from June and a 17.3 per cent fall from July last year.
"At the same time average prices held up well with July's average price edging up 2.2 per cent to $534,389 on those for June. This was also 5.3 per cent higher than in July last year," said Thompson.
The rise in sales prices could be put down to the higher than usual number of homes selling in the over $750,000 bracket.
Goldman Sachs JB Were economist Philip Borkin said this morning's figures showed activity in the Auckland housing market was 'stuck in neutral'.
"Looking forward, modest house price falls look possible, although we do not envisage a sharp correction lower as this would require a large increase in forced sales. Without a further deterioration in the labour market, this seems unlikely," said Borkin.
"Activity remains weak and momentum, if anything, is negative," he said. "The number of mortgage approvals is depressed. It now appears unlikely that we will see a release of post-Budget pent up demand in the near-term that we thought could have occurred."
Whether the increase in rents was in response to recent tax changes was unclear, said Borkin. "However, we view a gradual recovery in rents (at a time of limited house price growth) as improving some of the key fundamentals within the property market."
Borkin said he saw "a number of headwinds" for the housing market.
"Net migration is waning, affordability is stretched and interest rates are increasing (although we note with interest that the major lenders have again not reacted to the RBNZ's lift in the OCR last week). In addition, recent tax changes make property a less attractive investment and there remains a theme of de-leveraging across the household sector."
Barfoot and Thompson said new listings last month were up 6.1 per cent on those for June but were "fairly typical" for this time of year.
Average weekly rentals reached a new, all-time high, increasing by $5 to $408.
The average rent for July is now $20 a week higher than the average for July last year, which at $388 was the average weekly rent throughout 2009 and 2008.

HERALD ONLINE