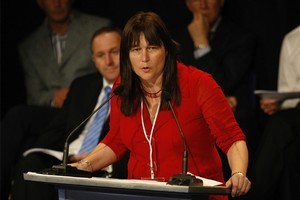 Unions have launched a "fairness at work" campaign targeting the Government's employment law plans and warn there are likely to be some heated collective contract negotiations on the horizon, along with spikes in industrial action.
The Government announced last weekend the 90-day probation period for new employees, which covers businesses with under 20 staff and means they can be dismissed without recourse within that time, will be extended to all businesses.
Other plans announced include employer consent being needed for unions to access work sites and proof of sickness being required on request for employees taking days off.
The Government says the 90-day law has led to more employment opportunities as employers now have more confidence when taking people on.
But Council of Trade Unions president Helen Kelly said research showed 22 per cent of workers taken on under the 90-day law had been dismissed within the trial period, and extending it to all businesses was worrying.
"Seventy five per cent of workers in New Zealand work for employers that are not covered by the current law... if 22 per cent of small business sack people in the first 90-days, just imagine what the numbers are going to be if that is applied to big businesses", she told NZPA.
Kelly said last night unions were committed to claiming immediate variations to their collective agreements to include the right of workers to access their unions and to include fair provisions for dismissal.
"And they will be seeking mandates from workers to take industrial action when employers refuse to agree to that," she said.
If employers refused such requests it left serious concerns about their motives.
Kelly said the Employment Relations Act had fostered good faith relationships between employers and unions, and in recent times incidences of industrial action had been at an all-time low. Those relationships were now likely to deteriorate.
She said the fairness at work campaign would be "very, very public" and would include industrial action, demonstrations, public meetings and community activities.
NZPA