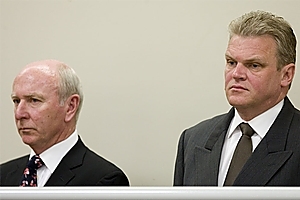 The case against former Bridgecorp directors Rod Petricevic and Rob Roest has been rescheduled to next month.
Rod Petricevic and Rob Roest were due in court this morning on charges brought by the Serious Fraud Office in May.
The pair are alleged to have used $1.8 million of investors' money to purchase and maintain the operational costs of luxury yacht, the Medici.
Further charges were laid against Pertricevic relating to allegedly dishonest payments of more than $1 million of investor's money to a sham business run by associate Janita Wright.
The case will return to the Auckland District Court on August 9.
Separately the pair will stand trial next July for charges laid under the Securities Act.
The prosecution alleges the directors lied to prospective investors in Bridgecorp's term investment prospectus, in an investment statement and advertisement.
Bridgecorp collapsed in 2007 owing 14,500 investors almost $460 million.