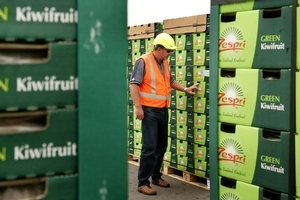 A long-simmering dispute in the kiwifruit industry will come to a boil tomorrow when grievances of NZX-listed Turners & Growers are heard in the High Court at Auckland.
Turners & Growers wants to be able to export without restriction its own kiwifruit varieties internationally.
Zespri, under industry regulations, controls exports to countries other than Australia and has promised to triple export earnings to at least $3 billion by 2025.
The hearing will start tomorrow and last four days to determine whether the industry regulations are unlawful and if the High Court has jurisdiction to decide whether Zespri has breached regulations.
Turners & Growers managing director Jeff Wesley this month said regulations were needed that recognised the world had moved on since 1999 and New Zealand risked being overtaken. A collaborative marketing system set up more than a decade ago was now a licence for anti-competitive behaviour, Wesley said.
Zespri said the proceedings showed a lack of respect and understanding, and were a waste of growers' money.
Director of corporate and grower services Carol Ward said the proceedings were part of campaign to try and destabilise the industry.
"I think that it's a lack of respect for the grower interest and a lack of understanding of what has been such a successful industry and under this marketing structure ... the results speak for themselves," Ward said.
Zespri was confident of its defence and did not think the case had merit, Ward said.
"They've got the opportunity to market kiwifruit through collaborative marketing but they are preferring to try and bring [the system] down."
Collaborative marketing with 16 other exporters, including Turners & Growers, to countries other than Australia accounted for about 2 per cent of the crop volume and was expected to grow. Industry regulator Kiwifruit New Zealand tested all collaborative marketing applications, she said.
"When they look at collaborative marketing applications the main test they have is: Does this add value back for the grower, is this to the benefit of the industry?"
The industry structure was proving successful for growers, Ward said.
"Over the last decade there's been a doubling in export earnings, we've hit $1 billion of export earnings last year," she said. "So not only do the growers support it but I think it's really demonstrating that it is successful."
Zespri has about 2216 shareholders - 94 per cent of which are current growers - and about 2711 suppliers.
A Colmar Brunton grower survey in February found the level of support for the single-point-of-entry structure was 90 per cent, up from 84 per cent in 2007. New Zealand Kiwifruit Growers Incorporated (NZKGI) president Peter Ombler said: "We absolutely think that it's critical that the current structure's retained for the financial wellbeing of growers in the industry."
Growers also showed strong support for both Zespri and NZKGI, Ombler said.
"At the end of the day it's common sense," he said. "I think there's enough examples in New Zealand of industries where there's a huge amount of value destruction with undisciplined marketing and undercutting of New Zealander versus New Zealander in the markets overseas."
Zespri said that Prime Minister John Key on a visit to the company in June said the bottom line was he liked the single-point-of-entry model.
"We can look to other industries where there isn't a single marketing agency or single desk seller, and we don't see success in those industries," Key said.
EXPORT MONOPOLY WARS: WHO'S INVOLVED?
Zespri
* Formed in 2000 as a result of industry restructuring which created a single point of entry for exports.
* Co-ordinates the global supply chain and manages the marketing of all home-grown kiwifruit outside New Zealand and Australia.
Turners & Growers
* Fresh produce exporter, horticulture investor and fruitgrower.
* Merged with ENZA (formerly the New Zealand Apple & Pear Marketing Board) in 2003.
WHAT'S HAPPENED SO FAR?
June 2009:
* Turners & Growers calls for an export monopoly status to be removed from Zespri.
* Zespri says industry deregulation is not supported by growers and is not on the agenda.
July 2009:
* Turners & Growers takes legal action claiming Zespri has abused a dominant position and that the Kiwifruit Export Regulations 1999 are unlawful.
* Zespri calls the legal action "a stunt".
September 2009:
* Zespri alleges to Trade Minister Tim Groser that Turners & Growers has sought to collude with foreign powers to undermine the Government's trade policy after it becomes concerned the company was trying to enlist US support.
November 2009:
* Groser says: "This is a commercial dispute dressed up in policy terms."
* Turners & Growers chairman Tony Gibbs describes the allegations of collusion as "hysterical nonsense".
WHAT'S NEXT?
July 2010:
* Hearing in the High Court to determine whether industry regulations are unlawful and if the court has jurisdiction to determine whether Zespri has breached regulations.
May 2011:
* Six-week substantive hearing in the High Court at Auckland to hear the remaining case of Turners & Growers.