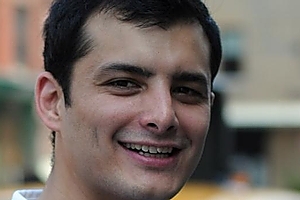 Two businessmen at opposite ends of the age cycle, 32-year-old Derek Handley and 82-year-old Allan Hubbard were in the spotlight this week.
Handley sold the mobile phone marketing and media company The Hyperfactory to the American media giant Meredith Corporation while the first statutory manager's report on Hubbard was greeted with derision in Timaru after more investor funds were frozen.
Handley first appeared on the scene as an intelligent and focused 21-year-old entrepreneur in December 2001 when Feverpitch International was listed on the New Capital Market, the NZX's experimental secondary market.
Feverpitch was an internet-based gambling system that allowed individuals to bet against one another, whereas in traditional gambling activities individuals bet against a professional bookmaker.
The operation, which was to be based in London, targeted several sports, including Australian and Hong Kong horse racing, rugby, cricket and major US sports.
Handley was the managing director and the other directors were Richard Waddell (chairman), John Handley, former All Blacks' coach John Hart, Jock Irvine and Len Ward.
The project was ambitious but Handley gave the clear impression that he would be a business success, whether with Feverpitch or some other enterprise.
Feverpitch struggled to raise additional capital and its sales revenue was minimal. The company reported a loss of $2.9 million for the six months ended September 30, 2002 and in January 2003 announced the acquisition of KidiCorp, the child-care company owned by the Wright family.
KidiCorp's backdoor listing through Feverpitch was a limited success and the company was eventually bought back by the Wright family after a successful takeover offer in 2007.
The Feverpitch/KidiCorp entity was delisted from the NZX in October 2007, nearly six years after its original listing.
In July 2001, just before Feverpitch listed on the NZX, Derek Handley founded The Hyperfactory with his brother Geoffrey and father John. The latter had marketing experience in more than 50 countries and has been a director of several Hong Kong listed companies.
While Feverpitch crashed and burned The Hyperfactory has been a major success.
Des Moines based Meredith acquired a 20 per cent stake 12 months ago and on Tuesday the New Year Stock Exchange listed company announced it had acquired the remaining 80 per cent for an undisclosed amount, which is believed to be in the tens of millions of dollars.
The Hyperfacory's major shareholders before this week's announcement were The Business Bakery - which is owned by Grant Baker, Geoff Ross and Stephen Sinclair - the Handley family and Meredith Corporation.
Other shareholders include Richard Waddell and Jock Irvine, two of the original Feverpitch directors.
Derek Handley, who won the 2009 Young Entrepreneur Award presented by Ernst & Young, has been a huge success but it is unfortunate that this has been achieved with an unlisted rather than a listed company.
This is one of the problems facing the NZX and domestic investors. Entrepreneurs are reluctant to list their companies on the NZX and as a result our sharemarket is dull, offers limited opportunities and encourages many individuals to invest in Australia and further afield.
The accompanying table illustrates this point as the NZX is starved of new listings, whereas Australian investors have plenty of IPOs to choose from.
In the 10 years ended December 2009 the ASX had 1406 new listings of domestic-based companies compared with only 123 on the NZX, a ratio of 11.4 to one. The gap is much wider for the second half of the 10-year period, with 805 ASX IPOs compared with a mere 31 on the NZX, a ratio of 26.0 to one.
New Zealand entrepreneurs and business people shun the sharemarket unlike their counterparts in other countries.
For example the Ernst & Young 2009 Australian Entrepreneur of the Year award was won by the CEO of a listed company and two of the other six awards were for executives of ASX-listed companies.
By comparison, Diane Foreman, of the unlisted Emerald Group, won the New Zealand Entrepreneur of the Year award and only one of the 16 nominations for the various categories - Graeme Clegg of New Image - was from an NZX company.
New Zealand business people seem to shun the NZX for a number of reasons, including a reluctance to subject themselves to public scrutiny, an unwillingness to dilute their shareholding, a lack of ambition and the failure to see the benefits of a stock exchange listing, particularly in terms of ongoing capital raisings.
Mark Weldon and his executive team still have a long way to go before they convince New Zealand businesses to list on the NZX and unless he does we will have a limited number of growth-oriented, domestic-owned companies.
The front page of Wednesday's Timaru Herald was dominated by the first statutory managers' report on Allan Hubbard and his business interest.
The report was fairly general but it did reveal that Hubbard Management Funds, which holds approximately $70 million of investors' money, had been added to the statutory management. These funds have also been frozen.
The report said that the accounting systems were inadequate and "it is not possible to accurately calculate the value of Hubbard Management Funds".
However, the Timaru Herald adopted a strong pro-Hubbard stance. It quoted one investor as saying, "Those bloody idiots think we need a gloss prospectus, and an ex-All Black to front the ad campaign. It is absolutely appalling what they are doing to a person who has never let anyone down".
Another individual, who had around $2 million invested with Hubbard, told the local newspaper, "It [the statutory managers' report] was eight pages of absolute waffle that a primary school kid could have written. With no funds to be released before August and everything frozen, it has taken a turn for the worst in my view".
The overall impression from the first statutory managers' report is that there are three main problems with the Hubbard group of companies. These are poor accounting records, too many assets have been switched from one area to another and there have been far too many related party transactions.
One of the best ways to think of Hubbard's business activities is in terms of all his assets are held in different boxes. One box contains South Canterbury Finance, another Aorangi Securities, one holds Hubbard Management Funds and the remainder holds all his other activities.
Assets and liabilities are switched from one box to another without proper accounting records and appropriate security.
Assets in the last box, in the form of 64 per cent of Scales Corporation and 100 per cent Helicopter (NZ), were transferred to South Canterbury Finance earlier this year and there are indications additional assets may have been transferred between the boxes.
Investors in the South Canterbury region are convinced that there are sufficient assets in all the boxes to meet Hubbard's commitments and liabilities. Financial institutions are less convinced, with George Kerr's Torchlight Fund obtaining additional security over its $100 million loan to South Canterbury Finance and a number of major banks seeking more collateral on loans to Hubbard and his related parties.
Statutory management has blown the whistle on Hubbard's asset- swapping activities and Grant Thornton is now trying to count all the assets and liabilities in Aorangi Securities, Hubbard Management Funds, Mr and Mrs Hubbard and associated trust entities. Investors will be hoping that there are sufficient net assets in these entities to meet all commitments. The next statutory managers' report, which is due in mid-August, should answer this question.
Disclosure of interest; Brian Gaynor is an executive director of Milford Asset Management.