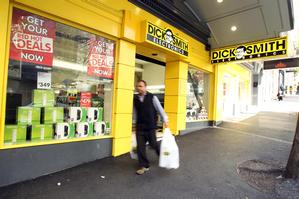 Kiwi shoppers are spending on groceries, takeaways, and big-ticket items, but are reluctant to splash out on clothing, liquor and dining out.
A year after the worst recession in decades began, our spending habits show we still are nowhere near getting out of the financial woods.
The latest figures from Paymark, which processes more than 75 per cent of all electronic transactions in New Zealand, show only a slight year-on-year increase last month for retail spending.
Sales at food outlets, including supermarkets, groceries and takeaways, increased slightly compared with June last year, and big-ticket items such as televisions, computers and whiteware, were also more popular. But spending on liquor and fresh produce has declined.
Despite figures which say the hospitality industry is starting to recover, about 150 bars, clubs and restaurants have closed or been put into receivership.
Paymark chief executive Simon Tong said consumers were spending only on what they needed, and using Eftpos rather than credit cards.
"We thought maybe we'd turned a corner [earlier this year], but it petered out," said Tong. "It hasn't tumbled, but it's certainly not continuing upwards like we thought it would."
Paymark transactions for last month show the highest year-on-year increase was for takeaway food, which was up 9.5 per cent. Supermarkets were up 2 per cent and other food retailing was up 8.7 per cent.
Fresh produce fell 4.1 per cent and liquor sales were down 2.9 per cent. Garden shops were down more than 3 per cent, pharmacies 7.1 per cent and travel agent sales have dropped 9 per cent.
Although clothing and footwear sales were up 7.2 per cent, Tong said those he has spoken to in the industry couldn't see the increase.
Spending at bars and clubs was up 2.2 per cent and sales at cafes and restaurants were up 8.2 per cent. But Hospitality Association of New Zealand chief executive, Bruce Robertson, said many operators were struggling to stay open.
Appliance and hardware stores seemed to be the only sector reporting an increase. Jason Bell, general manager of merchandise for the Noel Leeming Group said consumers were gaining confidence. "In the past couple of months people wanting to get in before the GST hike have brought sales back," Bell said.
TVs had driven the increase, but IT technology and items such as iPhones had also done well.
Needs put before wants
Aucklanders opt for bargains and only buy what is necessary, the Herald On Sunday has found.
Shoppers spoken to on Queen St say we are still in the grips of the global recession.
Mt Albert mother-of-two Moira Thomson said her spending priorities were food for her family and textbooks and material for her part-time study.
If she needed anything else, she would hunt out bargains or wait for items to go on special.
Siobhan Carpenter, 30, felt the recession stronger when she was in London. Three months ago she lost her job, and came back to Auckland.
"It feels better here than in London," she said. "I feel like I can [afford shopping here] but I probably shouldn't."
Marketing research consultant Joanne Storry noticed the situation worsening every year she returns for a holiday from London, where she lives. The 44-year-old said her friends dine in and entertain at home rather than go out, and they always shop for a bargain.
Tony O'Neill, a married father-of-two and executive director from Parnell, believed people could only afford to spend what they've got. "A lot of people are cutting back on cafes and restaurants. My wife will only look for bargains rather than shop willy-nilly," he said.