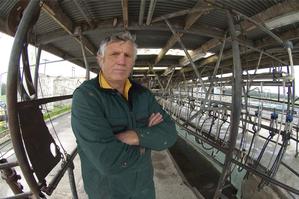 The Crafar bid to seek an injunction stopping the sale of their dairy empire by receivers appears to have been called off.
Crafar's lawyer Dan Parker said outside the High Court at Auckland this morning that he had received instructions to withdraw the application.
The Crafar company Plateau Farms applied for an urgent interim injunction against receivers KordaMentha and creditors of the farms which was heard on Wednesday night.
Crafar said at the time he wanted to stop the sale to give himself time to redeem his debts - which total more than $200 million.
The Crafar farms were New Zealand's biggest private dairy operation when it went into receivership last October.
Parker this morning said the injunction was about to be withdrawn becuase "at the moment there's not enough evidence of funding". If that improved then they are going to re-apply."
"We want him to win," said one Crafar supporter who did not wish to be named. "He's a good bugger, he is a battler. I would like to see him get through this, he is taking on some giants out there. The receivership is a mess."
KordaMentha's Brendon Gibson and Michael Stiassny yesterday said they would vigorously defend the proposed court action.
Tenders for the properties closed on Wednesday and receivers said they have now had the chance to look over the bids, although a decision would be some time away.
State owned farmer Landcorp put in a joint bid with Wairakei Pastoral, while Chinese investors UBNZ was the other confirmed bidder.
UBNZ has signed a conditional agreement to buy the portfolio of 16 farms from the receivers for $213.2 million plus stock.
That agreement is subject to Overseas Investment Office approval and has been structured so the receivers can accept a better or more favourable offer.
The Crafar farms went into receivership last October owing more than $200 million to PGG Wrightson and the banks.