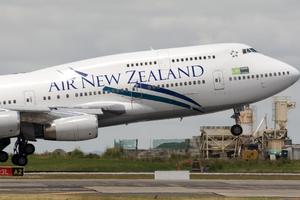 Air New Zealand has confirmed it will sign a new data centre provider in Auckland.
Rumours surfaced this week that IBM was being dumped from running Air NZ's data centre in Newton in favour of Telecom's IT business, Gen-i.
The airline yesterday said it intended to move from its secondary data centre in Nelson St and was in talks with vendors for a replacement in Auckland.
"The move out of Nelson St does not signal a significant change in the current relationship between Air NZ and IBM," said the airline's chief information officer, Julia Raue.
She said Air NZ would remain in the primary data centre in Newton until at least 2012 with IBM managing the facility.
Raue said the airline was in discussions with IBM about its commercial relationship beyond 2012.
Last year Air NZ chief executive Rob Fyfe lambasted IBM after a power failure at the Newton data centre saw massive disruptions to travellers on the last day of the October school holidays.
At the time industry insiders told the Herald the Newton data centre was running at full capacity and additional computing equipment could not be added at the site.
An IBM representative said the company had not bid to provide the airline with additional data centre services as its new facility being built at Highbrook Business Park in East Tamaki would not be ready in time.
Air NZ needed a new data centre option by the end of this year but IBM's Highbrook facility is not due to be operational until next year.
* Air NZ said yesterday it had carried 883,000 passengers in May, up 3.9 per cent on the same month last year.
Poor weather caused a number of challenges in May, resulting in 85.5 per cent of domestic flights leaving within 10 minutes of scheduled departure time, the airline said.
It reduced capacity on Tasman and Pacific routes by 3 per cent in response to a 1.1 per cent decrease in demand. As a result the transtasman load factor, a measure of how full flights are, rose 1.5 percentage points to 78.3 per cent in May from a year ago.
The group load factor increased by 1.9 percentage points from a year ago.
Short-haul passenger numbers rose 4.2 per cent and long haul numbers rose 1.9 per cent. The load factor on short-haul flights was 80.1 per cent, and on long haul 71.9 per cent.
Group-wide yields for the financial year to date were down 7.9 per cent on the same period last year. Discounting the impact of foreign exchange, group-wide yields dropped 5.9 per cent.
- ADDITIONAL REPORTING: NZPA