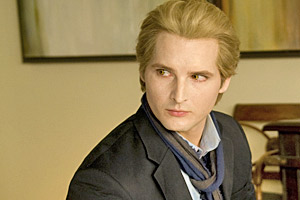 As the world recovers from the global financial crisis of 2008, the fortunes of the rich, famous and fictional have rebounded in a similar fashion.
Forbes magazine has released its annual ranking of fiction's richest people, which this year includes six new characters.
The nine returning members have an aggregate net worth of $112.2 billion, an increase of 9% on 2009's figures.
The 2010 Fictional 15 is led by Carlisle Cullen, the patriarch of Twilight's coven of vampires, who has accumulated a personal fortune of $47.9 billion during his 370-year lifetime.
Cullen's fortune stems largely from long-term investments planned with the help of his adopted daughter, Alice, who is able to give excellent stock advice because of her ability to see into the future.
A first-time entry onto the list, Cullen poses as a small-town doctor in the US state of Washington.
Scrooge McDuck (Duck Tales, $47.1 billion) and Jed Clampett (The Beverly Hillbillies, $10.1 billion) enjoyed a fruitful year thanks to surges in the gold and oil sectors.
Notable names falling off the list were Wall Street's Gordon Gekko - who found that greed was not as good as he had preached - and Star Wars villain Jabba the Hutt.
The magazine said he was found dead "under salacious circumstances."
* The Forbes Fictional 15
1: Carlisle Cullen - Twilight
US$34.1bn
2: Scrooge McDuck - Duck Tales
US$33.5bn
3: Richie Rich - comic book hero
US$11.5bn
4: Tony Stark - Iron Man
US$8.8bn
5: Jed Clampett - The Beverly Hillbillies
US$7.2bn
6: Adrian "Ozymandias" Veidt - Watchmen
US$7bn
7: Bruce Wayne - Batman
US$6.5bn
8: Tooth Fairy - Traditional character
US$3.9bn
9: Thurston Howell III - Gilligan's Island
US$2.1bn
10: Sir Topham Hatt - Thomas the Tank Engine
US$2bn
11: Artemis Fowl - Artemis Fowl novels
US$1.9bn
12: C. Montgomery Burns - The Simpsons
US$1.3bn
13: Chuck Bass - Gossip Girl
US$1.1bn
14: Jay Gatsby - The Great Gatsby
US$1bn
15: Lucille Bluth - Arrested Development
US$950m
- NZ HERALD ONLINE