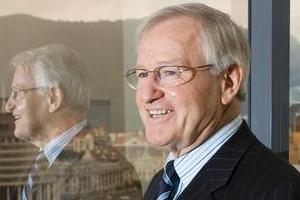 Former National prime minister Jim Bolger is to be removed as KiwiRail chairman, State Owned Enterprises Minister Simon Power confirmed today.
Wellington company director John Spencer has been appointed chairman from July, replacing Mr Bolger.
"Mr Bolger has been a strong leader for KiwiRail since its inception in October 2008, and I thank him for his dedicated service over that time," Mr Power said.
National was highly critical of the previous government's purchase of the rail network, but has said it will not be sold, despite complaining about it being continuing drain on the taxpayer.
Mr Power said Mr Bolger's replacement had a "wealth of commercial governance experience" including leading the merger of Asure and AgriQuality in 2007 and as deputy chair of Solid Energy since May 2006.
"I'm confident Mr Spencer will guide KiwiRail successfully through the challenges ahead," Mr Power said.
Mr Spencer will retire from his role at Solid Energy on April 30 to allow him to focus on KiwiRail.
Mr Bolger retains his role as chairman of New Zealand Post.
Mr Bolger's removal from the board was among a raft of appointments and re-appointments announced today.
Donal Curtin was also replaced as chairman of Public Trust by fellow board member Trevor Janes.
Mr Janes was put on the board after the Government had to bail out Public Trust after the election.
Successive governments have spent $50 million propping up the ailing financial and legal advice state owned enterprise.
"Trevor Janes is an experienced company director who has served on the Public Trust board since June 2009, and I'm delighted he has accepted this challenging role," Mr Power said.
"I look forward to working with him to further develop Public Trust's strategic direction."
Mr Power thanked Mr Curtin for his service. He has served on the board since July 2004, and as chairman since November 2007.
Christchurch-based solicitor Sue McCormack joins the board, while deputy chairman Robin Hill and Sarah Roberts have been reappointed for further terms.
Other new directorships announced today were Dianne Kidd on AsureQuality, John Dell and Rukumoana Schaafhausen on Genesis, Traci Houpapa on Landcorp, Mary Devine on Meridian, Prue Flacks on Mighty River Power, David Willis on NZ Post, and David Patterson on Solid Energy.
Former National Party MP Graeme Reeves was reappointed to the Airways Corporation.
- NZPA