A roundup of reaction to the new Apple iPad from across the internet: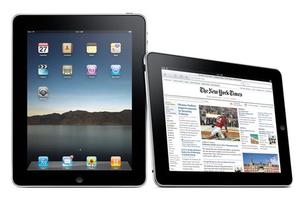 "I'm sold; half the time I use my iPhone sitting around at home anyway. I'd certainly be happy for more screen real estate at those times. I wouldn't use this on a bus. But for sitting in a coffee shop, etc., it seems much more convenient than a laptop," wrote "Miked" on the Toucharcade website.
"Meh, its okay I guess. But why not just get an iPhone, it does that and much much more already. The only good thing about this is the fact that it gives a good idea of what kind of spec the next iPhone will be (its bound to come out in June like all the others),"
wrote another person on Toucharcade.

"Apple - the worlds best marketers. But hey if they can sell a dumbed down product, for a premium price, and extract cash from suckers' pockets, more power to them.

I only wish I brought shares 10 years ago,"
wrote Dave on nzherald.co.nz.
"Yes. Hopefully it's not going to rely on having a cellular data plan, that'd pretty much kill it here in NZ,"
wrote Craig Stanton on nzherald.co.nz.

"The iPad itself seems less svelte than many fans expected-a blogger at Gizmodo estimates that 20 per cent of the surface is bezel. The device's home screen features weirdly spaced-out icons. The overwhelming early response among those live-blogging the event, and reacting to the live blogs online, is that this thing looks like a really big iPhone,"
wrote Newsweek.

"Aw, this looks good. The iPad looks like everything that was predicted, while it seems that some of the speculation was true - several sites also carried leaked photos of the actual device."
Techradar.com

"I'm sorry, but this idea is weak sauce. I can see shrinking a laptop down to make a netbook....but increasing the size of an iPhone/iPod touch to that of a netbook seems like a sign of a company really desperately trying to scrape the bottom or the nearly-dry barrel of the whole iPod/iPhone concept."
PC World
Can't afford an iPad? Have a very small baby hold your iPhone for a similar effect. Tweet from : vaughndavis
Wonder if Steve Jobs will get the Nobel Peace Prize for launching the #ipad? Tweet from: juhasaarinen

Reading iPad tweets is like reliving the Obama inauguration: "The saviour!" "This one will be different!" "I'm weeping with joy!"
Tweet from: Gnat
"The iPad had the opportunity to be the ultimate business video conferencing tool. The size is small enough that you can carry it around, but large enough that you can sit it on a desk, read shared documents on screen and have a couple of people sitting with you joining in on the action. However, the lack of front-mounted camera means video conferencing like this is out of the question. There's no VoIP video-conferencing-anywhere to be found."
David M Williams writing on the itWire website.

"Moments ago, an apple PR rep slipped through the doors of the yerba buena center to ask that the press waiting outside take 2 big steps back. The last time that happened to me, I was at a Jesus Lizard show." Blogger John Packowski writing about the press pack waiting to get inside the launch event.

"You probably wouldn't be dreaming of doing spreadsheets and preparing presentations on the iPad, after all, who would want to do work when you could have so much fun, right? But if you're insistent on doing some work, the updated iWork for the iPad is looking great, and you could even call it cool. You've got new version of Keynote (presentation), Pages (word processor), and Numbers (spreadsheet), all which integrate very nicely on the iPad."
Ubergizmo
"Apple could sell a turd on a stick and the trendy folks would be killing each other in the streets to be the 1st to get it. It matters not if Tablet PC's have not had the best of times, if Apple stick their name on it, people want it."
One commenter on the website of the UK newpaper The Independent.
Great big keyboard letters, too big to misplace...it's iPhone for Seniors.
Tweet from: DavidSlack
"So is reading a book on Apple's iPad any better than a Kindle? Well, you have complete page flipping control. And that's something."
Gizmodo website
"I don't get it, how am I suppose to fit that thing in my back pocket?"
Comment from theEngadget website
"It is the most beautiful word processor you've ever used."
Apple's senior vice president of world wide product marketing
"It's so much more intimate than a laptop and so much more capable than a smartphone with this gorgeous, large display."
A blogger present at the San Fransisco launch on the Wired website
"The iPad is in effect a giant iPhone which can do just about everything the phone can do but may provide a better way of watching video or playing games. The most interesting aspect is the launch of iBooks, the online book store with which Apple hopes to revolutionise publishing world just as iTunes transformed the music industry."
Rory Cellan-Jones on BBC website