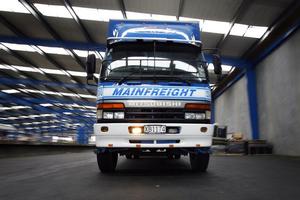 Mainfreight says it in experiencing month-on-month revenue growth after a dire first quarter largely responsible for a 36.5 per cent fall in half-year profit to $10.9 million.
The company - seen as an economic barometer - says the run-up to Christmas was looking positive, assuming the uplift from October and November is sustained.
Managing director Don Braid said although there had been a pickup in the third quarter he had fears for the start of next year. "From a bigger macro point of view I'm a bit concerned about what January to March is going to be for the whole country. I'm not sure if we're out of this recession yet."
About 68 per cent of the company's turnover is earned from divisions in Australia and the United States. "I'm still concerned about the economy in just about every country, although Australia is going pretty well," said Braid.
For the six months to the end of September, Mainfreight's trading revenue fell 14.3 per cent from a year earlier to $535.8m, while net profit before abnormals dropped 29.3 per cent to $12.2m.
"Second quarter performance saw revenues and profitability improve markedly from our first quarter's results," Mainfreight said.
Direct comparisons showed revenues up 4.8 per cent and ebitda (earnings before interest, tax, depreciation and amortisation) up 50.5 per cent.
In the New Zealand domestic division, ebitda declined 14.5 per cent to $14.5 million compared with the same period last year, but September 2009 month ebitda exceeded that of September 2008 by 9.8 per cent. Sales revenues fell 16.4 per cent to $128.4 million, down $25.2 million from a year earlier.
"Domestic freight volumes are on the rise with increased market share assisting revenues," Braid said.
Warehousing orders were up 30 per cent although the average consignment size fell by 19 per cent.
Mainfreight will pay an interim dividend of 8.5c per share. Its shares closed down 1c at $5.64 yesterday.