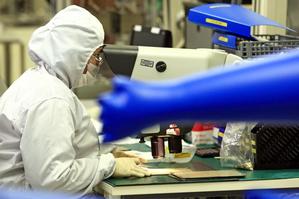 Lower prices for GPS sales and foreign exchange losses are being blamed by Rakon for a half-year after tax loss of $6.2 million.
The quartz crystal components maker yesterday said while its earnings before interest, tax, depreciation and amortisation were better than it had expected, its bottom line had been hit hard.
Rakon forecast a $3 million to $4 million loss for ebitda at the end of September at the same time as announcing a $65 million capital raising to be used for building a new factory in China.
Yesterday managing director Brent Robinson said its ebitda was slightly better at a loss of $2.9 million for the six months to September 30.
Chief operating officer Graham Leaming said while it had expected the aggressive price reductions in its GPS business, the rapid change in the US exchange rate had further weakened the result.
During the period the New Zealand dollar moved from US55c to US70c while against the British pound the US dollar rose from US$1.41 to US$1.65.
But revenue was starting to recover from the slump seen in the second half of 2009 with sales up 30 per cent on the same period last year.
Leaming said that had been driven by a recovery in consumer confidence as well as demand for new smartphone technology.
Rakon had also made market share gains in its telecommunications business.
"Our smartphone and femtocell [low-powered cellsites-in-a-box] business is developing well."
Its capital raising meant the company now had no debt.
The plan to build a new factory in Chengdu had begun with the land up for tender and design plans for the building under way and expected to be completed by February.
Robinson said he had recently returned from a trip there and had received strong support from local government.
He said business was picking up and he expected significant growth in the second half to come with its oven-controlled crystal oscillator business after being awarded several major infrastructure contracts by Ericsson.
Rakon was also developing a complementary voltage control crystal oscillator range which had also won some contracts.
Demand for its femtocell business was building. "We did about US$350,000 per quarter for the first two quarters. We believe we will double that in quarter three and triple that in quarter four."
Although the company had been hit by the recession it had not slowed its plans. "As in any downturn the effort across the business to establish a strong position for the future actually intensifies," Robinson said.
The company was still forecasting a full year ebitda of $4 million to $8 million despite the first half loss.
Rakon closed steady at $1.17.