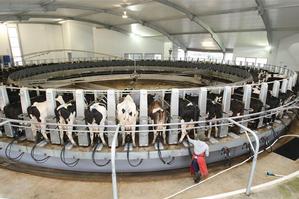 The joint-owner of New Zealand's largest privately owned dairy farming operation has confirmed it is in talks to sell out to a Chinese company for over NZ$200 million.
The sale would make the Chinese interests one of the biggest individual shareholders in Fonterra, but would save two New Zealand banks and PGG Wrightson Finance from taking big losses on loans to the farming group.
Allan Crafar told interest.co.nz the family-owned Crafar Farms group had been in discussions with a Chinese firm, which he declined to identify. Due diligence and valuations had been carried out, but no sale agreement had been reached, he said.
The sale of the 15 farm group with 30,000 stock, mostly in the Reporoa and central plateau area, had now been opened up for wider interest to extract the best price, Crafar said.
"It's a shocking day for the country," Crafar said. "They're going to lose one of the most enthusiastic family of dairy farmers in the country and all because everybody thinks they can run these farms better than we can," Crafar said.
Crafar Farms has been prosecuted several times for releasing effluent into waterways and has been widely criticised by environmental groups as the worst example of 'Dirty Dairying' in the country.
It was fined NZ$90,000 last month by the Hamilton District Court due to a "systemic failure" of a problem-plagued effluent system, the Waikato Times reported.
Crafar rejected the criticisms and said the environmental legal actions had cost over half a million dollars and were a factor in the decision to sell.
However, the Crafar Farms' debts of close to NZ$200 million were the major reason why the group had decided to sell.
"We've never been scared of debt and we've got plenty of it, but so has a big chunk of the New Zealand dairy industry," Crafar said. "We're not the only ones guilty of having a crack and being a bit more go ahead," he said.
Crafar confirmed that the group owed more than NZ$150 million to two banks and a further NZ$25 million to PGG Wrightson Finance.
Asked what mistakes the family-owned farming group had made, he said: "We were too positive about the dairy industry and we misjudged the forces against us," he said.
Crafar said Crafar farms employed almost 200 people and produced half of one per cent of New Zealand's entire dairy output, which works out at around 60 million kilograms of milk solids worth NZ$250.3 million at the current expected payout of NZ$4.20 a kg.
Crafar said three generations of family farmers had worked to build up the group and were unlikely to receive a cent in equity once the sale was completed, given debt was worth as much or more than the farms.
"I would have been better off staying on the dole," he said, adding that the family owners of the group had never taken out more than the value of the dole in salaries from the business over the years.
"This idea that we're all a bunch of rich bastards is bloody bullshit," he said.
Crafar was complementary about PGG Wrightson Finance, but was critical of the two banks he was dealing with, although he declined to name them.
"I'd like to come back in another life as a banker," he said, adding: "New Zealand needs to get back in control of its banking."