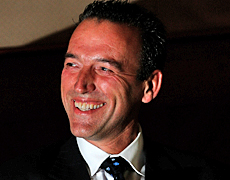 Former tow truck driver-turned-business heavyweight Graeme Hart is now ranked as the wealthiest man in Australasia.
The annual Forbes business magazine billionaire rankings put Mr Hart's wealth at US$4.5 billion ($8.8 billion), outstripping Australian-born media mogul Rupert Murdoch (US$4 billion), shopping centre owner Frank Lowy (US$2.7 billion) and media heir James Packer (US$2.5 billion).
In business parlance, slightly down is the new up, and that has been the case for Mr Hart.
Despite losing about US$600 million off his estimated net worth, he has moved up the Forbes billionaire rankings list into 110th place - a jump of more than 90 places from last year.
Over the year since the last survey, US$1.4 trillion of wealth has been wiped from the rich list, and the number of billionaires in the world fell 30 per cent to 793.
Microsoft founder Bill Gates (US$40 billion) regains the top spot, having lost it last year for the first time in 13 years to US investment guru Warren Buffett and Mexican telecommunications mogul Carlos Slim.
Mr Buffett is now in second place with US$37 billion and Mr Slim is third with US$35 billion.
Mr Hart's estimated wealth puts him ahead of Richard Branson, Donald Trump, movie directors George Lucas and Steven Spielberg and Apple computers founder Steve Jobs.
Mr Hart last year paid US$250 million to add the Australian assets of US forestry company Weyerhaeuser to his international packaging products empire, which includes Carter Holt Harvey and Switzerland's SIG.
Other New Zealanders on the list were the Chandler brothers, Christopher and Richard, each valued at US$1 billion.
For 20 years, the Chandlers ran an investment company in Monaco, before parting ways two years ago.
Out of the rankings was Moscow-based Kiwi expatriate investment banker Stephen Jennings.
He joins Facebook founder Mark Zuckerberg and former AIG head Maurice Greenberg, whose fortunes have crashed over the past year.
And who says crime doesn't pay? A suspected drug lord who is Mexico's most-wanted fugitive is on the list with a fortune described as "self-made".
Joaquin "El Chapo" Guzman's worth, according to Forbes' estimates, is US$1 billion.
This puts him at No 701 on the list, between a Swiss oil-trading tycoon and a US chemical heir.
Often described as Mexico's most powerful drug cartel kingpin, Guzman has been on the run since 2001, when he escaped from prison, apparently hidden in a laundry truck.
Capturing him could make someone else rich - he has a US$5 million reward on his head.
- ADDITIONAL REPORTING: AP
By Helen Twose

Email

Helen