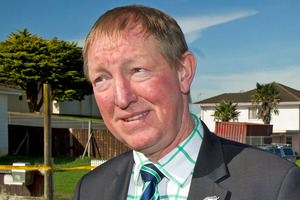 For a man of science - PhD in landslides - Housing Minister Nick Smith does have a very unscientific faith in the mumbo-jumbo of the market soothsayers. Not enough houses being built in Auckland.
No sweat, says Dr Nick. We'll open up the farm land on the boundaries, cut some local government red tape and, hey presto, affordable houses will blossom.
How? Because the runes of the market say they will.
A quick check at what's going on in the birthplace of modern economic theory suggests otherwise. The experience in Britain is that whatever the market says about encouraging the building of more affordable housing, freeing up land and fast-tracking building permits is not the magic bullet.
The Local Government Association in Britain reports 400,000 sites throughout the country with planning permission to build new homes but not a hammer-wielding builder on site at any of them.
The problem is "land banking". Developers are sitting on the land, gambling on its value, and their profits, eventually going up.
It's a crisis that has both London Mayor Boris Johnson - tipped as a potential Conservative Party leader - and Labour Party leader Ed Miliband calling for drastic action, including, in the last resort, confiscation of the land by the local authority. Not for them any waiting for the invisible hand of the market to do the job.
This month, Dr Smith told the social services select committee the Housing Accords and Special Housing Area bills he'd put before Parliament would trim the "super profits" from land banking, which he said was the biggest impediment to housing affordability in Auckland.
"The biggest problem in Auckland is the issue around land banking," and "the best solution to land banking is making real progress on land regulatory tools through the accord and through special housing legislation that is going to remove some of the monopoly profits that people are able to get from land banking".
He said that "if you put a straitjacket around the city and say only land for residential development is in that defined line, you're gifting a massive capital gain to those rural land owners".
It was "obscene" that a Flat Bush property bought in 1995 for $890,000 was now on the market for $112 million.
Land bankers had a monopoly and were strangling supply.
"We cannot walk away from the issue that restrictive land supply policies across the world are at the heart of the housing affordability issue."
But in Britain, Dr Smith's "solutions" have failed spectacularly. Those 400,000 sites - 177,000 in London - are through all the local government planning red tape but with no sign of new housing, affordable or otherwise.
Last month, Boris Johnson told the London Assembly that if necessary, he would hit the "pernicious" land bankers with compulsory purchase orders unless they started building.
"To constrict supply to push up prices by land banking is plainly against the economic interests of this city."
He was "all in favour" of compulsory purchase "where people could go ahead with developments that would be massively to the benefit of this city".
From the other side of the political divide, Ed Miliband made similar promises to a party conference in Birmingham last weekend.
The scene he set could have been Auckland. "For decades now, Britain hasn't built enough homes ... many young working people will now have to save for 30 years before they can afford a deposit for a new home."
Mr Miliband said a major obstacle was the "land owners with planning permission, sitting on land, waiting for it to accumulate in value and not building on it. We have to change that, including giving councils real power to say to developers that they should either use the land or lose the land".
Dr Smith's belief is that by removing the land bankers' monopoly on land supply, land prices will drop, and if building permits are fast-tracked, affordable housing will suddenly blossom.
The British experience suggests not. Land banking, in London or Auckland, is a waiting game. It's not driven by a desire to build affordable housing at all. It's about making long-term profits.
Dr Smith's new legislation may, indeed, force the Auckland Council to rezone some rural land, but there's no guarantee this will cause nearby land-banked land to plummet in price and be thrown open to housing. The rezoned land is more likely to rise in price, as it has in the past, and become but a new land bank.
Boris Johnson favours compulsory purchase by the city as a last resort. It's the approach Dr Smith's opponents in Labour and New Zealand First favour. In response to the minister's planned accord with the Auckland Council, NZ First spokesman on housing, Denis O'Rourke, said: "Part of our policy would see a specialised government agency buy land for housing development. They would target smaller, more affordable homes on smaller sections."
The Hobsonville Village development, begun under Labour, is another example of a Government-led, own-your-own home project. Dr Smith used it as a backdrop to announce his current anti-land banker campaign.
What a shame he didn't borrow from this successful experiment, and announce more Housing NZ-led ventures. Instead, he's decided on taking the gamble that he can outsmart the market professionals at their own game.