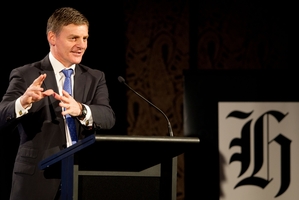 Finance Minster Bill English is sceptical any policy moves, such as a capital gains tax, could lift New Zealanders' savings rates.
"Thirty years of public policy, of every kind you could imagine, have failed to shift New Zealanders' savings behaviour to the point where policymakers are happy," English said at the launch of the Herald's Mood of the Boardroom survey yesterday, in response to a question from BNZ chief Andrew Thorburn.
"I think we should do something radical and go and ask New Zealanders why they do what they do. Policymakers have just been saying, 'Oh well they are just stupid, they don't save enough'. Given the choice between the mob and the policymakers I'm with the mob."
People were not stupid and would save if the risk/reward proposition was right, he said.
"That is why we have taken quite a big political risk with the asset sales, to reinforce the public capital market, and we have uncovered the fact that the big pool of capital here is not, as people assume, in KiwiSaver funds but actually the retail market."
Households' low savings rates and the country's reliance on importing foreigners' savings - as reflected in a current account deficit of $10 billion and net foreign debt of $147 billion - are widely seen as a source of vulnerability for the economy.
But English said that in the global financial crisis it was not external but domestic debt that was the weak point for the countries which got into trouble.
"They have been wrecked by their own financial institutions. Maybe in a little economy at the end of the world we are diversifying our risk sensibly by saying we have got multiple sources of funds, offshore and onshore."
The International Monetary Fund in its recent report on New Zealand linked the fact we have high house prices relative to incomes, and high levels of household and foreign debt, to the housing being the only tax-preferred form of savings.
English does not dismiss the idea that biases in the tax system might be a factor. "But ours is one of the cleanest, most neutral tax systems in the world. It may be one reason. The question is, are there others?" he said.
"The idea that if you bring in a partial capital gains tax on investment housing you will transform New Zealand's savings rate is just nonsense.
"It is no good politicians and policymakers talking among themselves about [this]. We need to find out from the public at large why they do what they do."
Labour's finance spokesman, David Parker, said the most important thing that could be fixed was the tax signal.
"That is why the OECD, the IMF and others including Labour think it is important to have a capital gains tax," Parker said.
"I don't agree that savings people make through increased notional housing equity built on rising housing prices will have the same effect in an economy as savings that are invested in non-housing assets."
He favours making KiwiSaver universal and increasing contributions over time. "If you want people to save you should be honest about when they can pick up super. We need to move the age of eligibility to 67 and give people plenty of time to adjust."