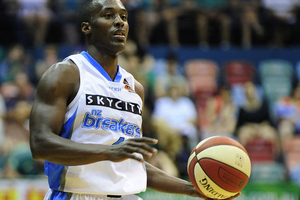 With unpredictable comebacks and ugly conquests marking a six-game winning streak, don't bet against the Breakers' unwavering belief resulting in a seventh straight success in Adelaide on Sunday.
The defending champions' one-point victory against Wollongong on Thursday night was the latest in a series of unlikely victories, solidifying the club's lead atop the Australian NBL standings before yet another jaunt across the Tasman.
Having recently completed a four-game summer sweep in Australia, the Breakers (14-3) will be confident of continuing their run in Adelaide (6-11) - even if coach Andrej Lemanis admitted the hectic schedule had impinged on his players' performance against the Hawks.
Despite how badly their bodies are hurting, there is little chance the Breakers will let a little physical discomfort cloud their mental state. The standards the side have set over the last few seasons simply wouldn't allow it.
"We take pride in being the best road team in the league," Lemanis said. "We have been the last four years and there's a certain sense of pride about that in the group.
"When we go on the road we expect to win, we don't care what the circumstance is. We don't care if we fly in half an hour before the game, we expect to go out and play well - and if we play well then we're going to give ourselves a chance to win."
It wasn't always that way, though. As the Breakers celebrated 10 seasons in the ANBL by wearing their heritage singlets against the Hawks, it was easy to look back and recall losing streaks far lengthier than their current winning mark.
The Breakers, like other Kiwi sides competing in transtasman competitions, initially found fortune across the ditch hard to come by. That all changed with Lemanis' arrival and the host of accomplished players who followed.
"I think it started with recruiting winners," the coach said. "Tony Ronaldson, CJ Bruton, Dillon [Boucher] have experienced winning in another programme.
"When I got to this club, the feeling was it was so hard to win on the road it was almost a miracle if you did it, so it's OK to lose. What happened was the mindset changed when we started recruiting people who were used to winning.
"They said, 'well, if we want to win, it doesn't matter where we play, it doesn't matter how hard it is, we need to go out and expect to win'."
Boucher, a foundation player at the club who has experienced the full spectrum of emotions with the Breakers, was well-placed to describe the change that took place, a change which has his side well on the way to a third straight title.
"It was all mental," Boucher explained. "Andrej talks a lot about whatever is in the front of your mind is a lot of time how you're going to perform. If we're telling ourselves that we're not going to win or it's going to be tough, then that's what you're thinking.
"Andrej's exactly right and that's exactly what we've done - we've just changed the mindset."
That mindset means even if Breakers are shooting barely better than 30 per cent at halftime - as they were against Wollongong - or even if they're trailing by 14 heading into the final quarter - as they were in their win over Adelaide last month - the players have only one thing on their minds.
"We expect to win every single game, no matter whether it's here or in Australia," Boucher said. "We're confident, some would say to the point of cocky. We believe we're better than every other team in this league and we go out and play like it."
- APNZ