An Arabic scene of dunes and camels was the backdrop for a diverse literary event, writes Linda Herrick.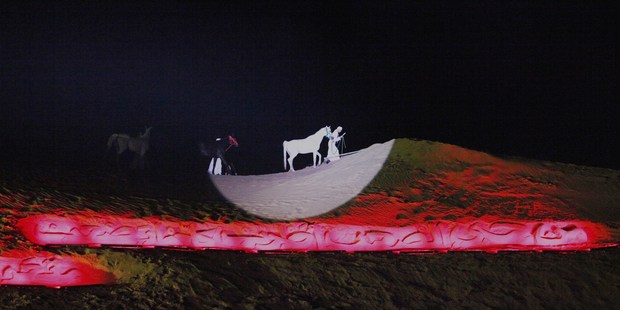 Why did Lawrence of Arabia like the desert? "It's clean." Yes, the sand did look immaculate in the Arabian Desert, a couple of hours' drive from smoggy Dubai, but I'm guessing camel-jockey Lawrence would curl his lip at the four-wheel drives we sissies used to get there - and narrow his eyes at the friendly reception we received.
On arrival, a line of smiling, white-robed Emiratis waved swords at us. Torches glowed as the azure skies darkened and the sand beneath my jandals cooled down. It was like being on a movie set, an amphitheatre in the dunes dressed with rugs, low tables and squabs.
Electronic Arabic rock music floated into the atmosphere. Food bubbled in the buffet tent. As night fell and a perfect crescent moon emerged, two white Arabian horses galloped down the rise, followed by four men and their camels, which settled gracefully on to the ground. Hammy but a real scene-setter, an atmosphere to seduce our mood as poets spoke of love, life and unknown things.
This was Desert Stanzas - Poetry & Music Under the Stars, an opening event in the Emirates Airline Festival of Literature in Dubai, which ran earlier this month. I say "unknown things" because some of the poets - those from Dubai, Germany and China - spoke in their own tongues, sometimes accompanied by translators, sometimes not. Sufi writer Khulood Al Mu'alla's impassioned love song was translated verse by verse; Chinese poet Yan Li delivered I Am Snow in Mandarin; slam-poet Frank Klotgen stuck to his German guns, and another Dubai verse-slinger, Khalid Albudoor, delivered an ode to Unknown Bedouins (translated) with deep rhythmic dignity.
Former poet laureate of Britain, Sir Andrew Motion, quoted by MC Paul Blezard as saying "poets are used to performing in a desert", gave a moving rendition of Archaeology, imagining the discovery thousands of years from now when the skeletons of him and his wife would be found, face to face, sand flowing from eye to eye. Another British writer, Lemm Sissay, the 2012 Olympics poet, was ponderous but loud. He had to be - the noise created by the event's sponsors, Emirates, regularly muffled the speakers as its jets streamed low overhead.
Back in town, the theme of the main body of the festival, staged at the InterContinental Hotel, was "Metamorphosis". Hotelier, entrepreneur and philanthropist Khalaf Ahmad Al Habtoor, who has just released his autobiography, is surely an example of a man who has clawed his way up. As he has risen, so too has Dubai. As a youth he raced camels, got work as an English translator (even though he could barely speak the language), and made his own brand of soap (after being rejected by Unilever in London, which made Lux soap, he created a line called Luv).
Al Habtoor, who had a hunch that Dubai was going to become a tourist hub, built his first hotel (it served alcohol, outrageous at the time) and his fortunes began to take off.
He is friends with British royalty (he had the slides to prove it), he knew Yasser Arafat well, and he has strong opinions on the politics of his region: Lebanon ("no cure"); Syria ("Americans promise everything and then they go. You have to depend on your own people").
He emphasised the importance of dialogue - but when he presented the inaugural Khalaf Ahmad Al Habtoor Lifetime Achievement Award to Dr Rafia Ghubash, founder of Dubai's Women's Museum and a distinguished psychiatrist, she countered his attitude with this assertion: "I will not shake hands with an Israeli because they have to prove they want peace." She got a standing ovation.
Malala, the Pakistani girl shot three times in the head by a Taliban gunman, was at the festival, via a brief pre-recorded video. Her biographer, Sunday Times journalist Christina Lamb, said Malala, now based in Birmingham, could not be there as she was sitting exams. Before the shooting, Lamb had previously interviewed her father, a headmaster and peace activist. When Lamb decided to write the book (I Am Malala), she said she wanted to be anonymous while doing the research in the Swat Valley because it was so dangerous. Malala's headmistress immediately wrote her name on the school blackboard.
Lamb also appeared in a panel discussion called Impartial Journalism - A Myth? with Lebanese TV journalist Gisele Khoury, whose husband, journalist and academic Samir Kassir, was assassinated in Beirut, and Guardian technology editor Charles Arthur. Lamb described her early academic friendship with Benazir Bhutto, which fell apart when Lamb started reporting on corruption in Pakistan and was deported. She met Afghan politician Hamid Karzai back in the 80s when "few journalists bothered to talk to him" but later self-censored when Karzai, by then President, told her things that would have endangered British troops in Afghanistan. She later added that she once worked for Sunday Telegraph proprietor Conrad Black who thought Chilean dictator Augusto Pinochet was "a good guy" while she was covering his trial for human rights violations.
The festival's Orwell Lecture was delivered by the BBC Middle East editor, Jeremy Bowen, who has a scar on his forehead to mark where he was shot in Egypt last year. Bowen had plenty to say about the region he has been covering for 30 years. Most of it was depressing. He was in Lebanon a few months ago, in a Syrian refugee camp where a family was burning "little pieces of plastic" to try to keep warm. In 2006, he recalled, he was in Beirut covering the Israeli bombing. "I had a feeling that things are bad and going to get worse."
Today, he said, "We are in the early years of a new crisis ... and journalism is the first draft of history." Bowen appeared as a witness in the War Crimes Tribunal to testify against Serbian general Ratko Mladic and was "happy to do do so ... I witnessed the consequences of those war crimes", adding that, "I don't know if there's any such thing as objective journalism but I try to be impartial."
Sessions like these were informative but sombre, but the festival was also balanced by apolitical guests, such as Pam Ayres, Eoin Colfer, former prima ballerina Darcy Bussell and Australian food writers Greg and Lucy Malouf.
After Bowen's lecture, I sat outside watching dozens of children absorbed by lively storytellers, and playing instruments and singing along with mentors and musicians from Trinity College in London. Their parents were beaming with pride. This was metamorphosis in the form of optimism.
Linda Herrick travelled to the Festival of Literature with Emirates Airline and Dubai Tourism.