As the number of living New Zealanders who have actually fought in a war declines, attendance at Anzac Day ceremonies continues to rise and ever more books about military history are published. Jim Eagles looks at the latest offerings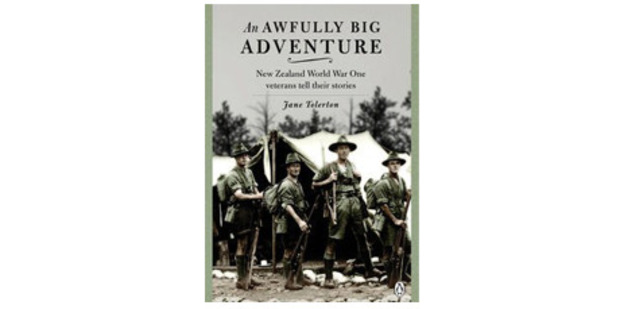 Men Of Valour: New Zealand And The Battle For Crete by Ron Palenski
(Hodder Moa $39.99)
Because my father fought in the Battle for Crete I've read a lot of books on the topic. I've also been there twice: for the 50th anniversary with my Dad and for the 70th anniversary escorted by two military historians. So, my first reaction to this book was, "What's it going to offer that's new?"
The answer is that it provides the best introduction to what happened in this totemic conflict - for us, World War II's equivalent of Gallipoli - I've come across. It's a highly readable combination of personal stories alongside a remarkably coherent account of how the chaotic battle unfolded.
Best of all, it avoids that great disease of military historians, one particularly common in accounts of Crete: the tendency to view events with the benefit of perfect hindsight and, on the basis of that, to assign the blame for defeat.
Palenski, by contrast, notes that the Allied forces on the island had lost virtually all their equipment in the preceding retreat from the Greek mainland - including, crucially, communications gear - and the Germans had total air superiority. So, while mistakes were of course made, the basic fact is that as the New Zealand commander, General Sir Bernard Freyberg, reported to his superiors on the eve of battle, "Forces at my disposal are totally inadequate to meet attack envisaged."
Dad would have liked this account.

An Awfully Big Adventure by Jane Tolerton
(Penguin $45)
A delightful compilation of anecdotes about the Great War as remembered by a group of veterans 70 years after the event.
The reminiscences of 80 veterans were originally recorded by Jane Tolerton and a colleague 25 years ago as part of an oral history project. Now, with the last surviving New Zealand veteran, Bright Williams, having died 10 years ago, she has returned to the archive to edit the old diggers' tales into an account of their war.
The result is a marvellous mosaic of memories. We have tales of the excitement of joining up; the culture shock of being transplanted from rural New Zealand to camp in Egypt; the chaos, courage and disillusionment of Gallipoli; the initial romance and subsequent horror - but still sprinkled with humour - of the Western Front; and so on.
It's a valuable, and entertaining, record of important voices that are now forever stilled.

The War That Never Ended by Pip Desmond
(Penguin $45)
As North Korea's latest hissy fit has once again reminded the world, the Korean War ended in 1953, after three years of bloody fighting, in a stalemate. Communist North and capitalist South still face each other across a heavily armed border in what is officially a state of war.
More than 6000 New Zealanders fought there under the banner of the United Nations, and 45 died, but their efforts earned minimal acknowledgement. In his introduction to this book, military historian Ian McGibbon says, "The lack of public recognition stemmed partly from disillusionment ... Millions of lives seemed to have been sacrificed for nothing: Korea remained divided."
Interestingly, most of the 12 veterans whose stories make up this account seem to agree.
As gunner Isaac Kemp puts it, "I still feel that we didn't do any good in Korea ... a whole lot of people died for nothing. Because nothing's changed."
But one or two, like army engineer Keith Hall, take the view that "the war was worthwhile in that it's obviously given the South Koreans the chance to look after themselves and advance themselves."
And, either way, most seem to agree with army dentist Alan Cull that "going to Korea had a great impact on my life. I think you grow up very quickly and learn to do things yourself and get on with it ... I think it gives you a bit of self-confidence."
Just like their predecessors, the Kayforce veterans signed up looking for adventure and found a mix of excitement and boredom, horror and mateship, not to mention getting a taste of a culture virtually unknown at home at the time.
The book has been sponsored by the Ministry for Culture and Heritage to mark the 60th anniversary of the signing of the armistice. It is a timely gesture.

Fit To Fight by PDF Cooke
(David Ling Publishing $74.99)
In the 24 years that New Zealand had compulsory military training, around 100,000 young men were called up for a few months of basic training for the Navy, Air Force or (for most of them) Army with follow-up sessions during evenings, weekends and annual camps.
My name wasn't drawn out of the ballot box but, from what I remember, most of my friends who were selected would rather not have gone but quite enjoyed it when they did.
A few hated it and for some it was a formative experience.
To record the details of this programme, which affected the lives of so many young men, Peter Cook has produced a massive volume, subtitled Compulsory Military Training and National Service in New Zealand 1949-72. There are useful accounts of the history of compulsory military service going back to feudal times, the often bitter debate
which led to it being introduced in New Zealand in peacetime, and the systems set up for those seeking exemption on the grounds of conscientious objection.
But, at its heart, are the photos and stories of trainees - 830 of them were interviewed apparently - as they sign up, arrive at the training camps, come to grips with military discipline, acquire skills and take part in exercises, join in pranks and witness bullying.
Recording all this is a valuable exercise but the book would have been able to do that better with a severe editing.
Many of the records in the bulky appendices seem barely relevant. The accounts would have benefited from the sort of tightening obviously carried out in An Awfully Big Adventure and there are a number of typographical errors.