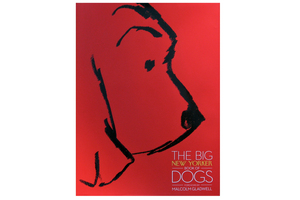 The Big New Yorker Book Of Dogs (William Heinemann $79.99)

A dog stands expectantly on his hind legs in the lounge, wearing a top hat, a suit, a cape and a bow tie. "Howard, I think the dog wants to go out," says the lady of the house to her husband, who's reading a newspaper. A sweet little dog gazes up at a judge, who admonishes him: "You can't plead cute." Two sour-looking lady poodles sit at a bar. Grouches one to the other: "They're all sons of bitches."
The Big New Yorker Book Of Dogs is big all right: 21cm x 28cm and 395 pages, with a generous smattering of those gloriously sly and sardonic New Yorker cartoons. However, be warned. The content - essays, poetry and fiction by the likes of John Cheever, Roald Dahl, Roddy Doyle, Arthur Miller, John Updike - is generally serious in tone. It is sometimes uplifting and heart-warming (but never schmaltzy) but, because of the uneven nature of the relationship between man and dog, some of the content is frightening, poignant and occasionally, downright disturbing.
Divided into sections Good Dogs, Bad Dogs, Top Dogs and Under Dogs, the book opens with an introduction by Malcolm Gladwell (The Tipping Point) who explains that New York dog-owners who live in apartments have a relationship shot through with guilt because they can't give their pets the freedom of a backyard. Gladwell also contributes a piece of reportage in the Bad Dogs section, called Troublemakers, which opens with an account of an attack by three pitbulls on a little boy in Ontario. Five days later the State Government banned pitbulls. Gladwell then widens out into a discussion of the effectiveness of banning breeds, stereotyping and racial profiling, whether applied to man or beast.
He concludes that there is only one "right kind of generalisation ... based not on breed but on the known and meaningful connection between dangerous dogs and negligent owners".
Also in the Bad Dogs section, but more light-hearted, is a selection of Q&As from James Thurber's Pet Department "column", a spoof of the New York Evening Post column of the same name. One reader encloses a sketch of her dog which has been lying on its back for two days without movement. Thurber suggests that the dog is either in a trance or dead. "He may be enjoying himself in a quiet way, but the tail is somewhat alarming."
Thurber also pays tribute to his bull terrier, Rex, dead for 25 years, in an essay in the Good Dogs section. Rex, an adept retriever of sticks, once brought home a small chest of drawers, Thurber claims. Rex died after a terrible fight - but not before waiting for an hour until one of his masters came home. "Rex walked a few wobbly paces toward him, touched his hand with his muzzle, and fell down again. This time he didn't get up."
Cathleen Schine writes a moving tribute (Bad Dogs) to Buster, "a relationship that everyone who cared about me considered abusive". Schine first discovered Buster in a pet shop in Los Angeles, Steinerin a long line of caged strays. Buster had "issues", inclined to savagely bite not only himself but passers-by and his owners. Prozac didn't work. Dog trainers didn't work. After 18 months of desperately trying to help Buster, Schine had to get him euthanased and still feels guilty.
A section on Bad Dogs would not be complete without Dog Whisperer Cesar Millan (this piece also written by Gladwell), who runs the Dog Psychology Centre in south-central LA where he takes in people's "problem dogs" (47 at the time of writing) and trains them for a minimum of two weeks. Millan's technique is remarkable. He uses posture and gesture to communicate with aggressive dogs in highly dangerous situations. His back story is also fascinating: he fled across the Mexico-US border when he was 21 and started working in a LA dog-grooming salon. His wife recalls that for the first few years of their marriage he was a "macho-istic, egocentric person" who gave all his attention to his dogs. She made him get into therapy where he took notes when he was told his wife needed affection and love. "That's it!" he said. "It's like the dogs. They need exercise, discipline and affection."
Rich Bitch (in Top Dogs) is the gruesome tale of American hotelier Leona Helmsley, who left "a trail of ruin - embittered relatives, fired employees and, fatefully, unpaid taxes". Her best friend was her Maltese bitch, Trouble. Trouble did ensue when Helmsley made a will allowing $12 million for the care of the dog after she died, two years later, and billions more going to a foundation for the care of animals. The family was cut out. As one observer put it, "What would make this dog (Trouble) happy is for a loving family to take it in. The dog doesn't want the money."
So The Big New Yorker Book Of Dogs is about the complex relationship between humans and dogs, often fraught with misjudgment and misunderstanding. One cartoon sums it up. An older dog is telling a smaller dog: "All dogs go to heaven, because we're not the ones who screwed up."