Kirwan berates players for their lack of wet-weather nous after loss to Brumbies.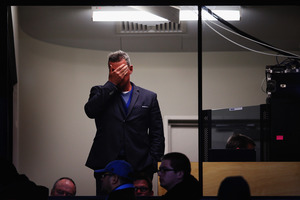 The "Better Never Stops" hoardings are plastered around Blues headquarters.
Every day the players enter camp, the signs stare at them as a reminder of their duty and the expectations from their highly credentialled coaching crew.
Those cues went awol on Saturday as the Blues withered against the Brumbies.
Perhaps the franchise needs to lodge a "Psychiatrist Wanted" advertisement in the situations vacant section of the Herald.
A support staff with World Cup-winning playing and coaching experience was not able to penetrate enough of the Blues to convince them how to deal with the Brumbies on a foul night at Eden Park.
Most of the squad are from the wider Auckland region and should understand how to play matches when the weather turns ugly. The previous round they got a warning about difficult weather down in Christchurch.
The week before they were chided about their sloppy last training leading into mixed work with the Rebels.
Anyone who has listened to Kirwan about his coaching concepts understands his demands are about regular improvement. If that occurs and results do not favour the Blues, he is comfortable.
Distractions swirled around the Blues all week. They lost players to the All Black training camp, Graham Henry delivered his barrage at referees and booked last night's inquiry with Sanzar before Ali Williams announced his test rugby retirement as the Blues prepared for the match against the Australian conference leaders.
That sort of thing is part of the deal as a professional rugby player.
Babysitting and pampering the Blues all season would be counter-productive.
They get all sorts of help but in the end, they have to develop and learn to cope with a variety of situations.
Halftime television footage showed a furious Kirwan staring his men down about their insipid opening half in which he felt they had been "outpassioned" in very part of the match. An hour later his mood had not improved about the 13-20 defeat.
"That was a very disappointing performance from an attitude point of view and I cannot accept that from our boys," he said. "We were getting outplayed from a kicking game. We just muddled through it. Guys offside, guys not hitting rucks well enough, just not at home.
"This is playoff time. We've got to step up. We can't look back and say 'oh you know we're a young team'. Forget that. Grow up and get on with it."
The Brumbies are a cohesive yet narrow side whose style suits tough conditions and referee Lourens van der Merwe was a bewildering presence once more, but the Blues knew about those issues well in advance.
After a drowsy first spell, they showed Kirwan, his staff and a 10,811 crowd they could produce rugby to compare with any other sides in the tournament. However, the Brumbies were not going to relinquish the precious 14-0 lead they had at the break.
"You just can't turn up at this level and think it is going to happen," Kirwan said. "We lost the football game through attitude and it is unacceptable if you put the Blues jersey on. We let an opportunity go."