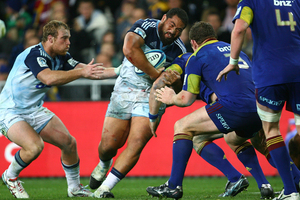 All the hype and all the hope around the Blues came up short once more.
Their first venture to Dunedin's new Forsyth Barr Stadium delivered the same result last night which has soured their season at every ground except Loftus Versfeld in Pretoria.
One win in eight matches will increase the calls for broad changes throughout the franchise.
Every match is now an unknown for the Blues, while there was uncertainty whether the Highlanders would show the venom they had before their last-round bye.
Both teams answered those doubts in the affirmative after a spirited contest which tested the minds and bodies of officials and players.
The Blues could have claimed a draw in the last minutes from kickable penalties but chose scrums and lineouts to find the try and an elusive victory.
But the Highlanders' set-piece held up, their defence claiming one final, priceless turnover as they escaped with their first win in their last six contests against the visitors.
The Highlanders will set off for their next games in South Africa in a buoyant mood while the Blues have another forlorn voyage home and what will be another testing week of inquiry and recrimination.
It took some time for the Highlanders to get Mike Delany back to Dunedin but that trouble turned to gold last night.
Officials had to cut through rugby's red tape in Japan and agree to a few other details before the one-time All Black and Highlander returned to his old franchise and new rugby ground.
The 18,417 crowd didn't mind the wait. Delany's first serious touch was a gem.
He ran across field from a scrum to drag the Blues' defence with him then popped a blind pass inside to find trailing wing Hosea Gear.
It was the sort of move a five-eighths would feel confident about after a season training with his mates. Instead, Delany has only been back a few weeks to help fill out the injury crisis which has claimed Colin Slade and Lima Sopoaga for the Super 15 programme.
Chris Noakes helped out adequately but Highlanders coach Jamie Joseph was looking for an extra bit of class to sit outside rising young halfback star Aaron Smith.
Delany's reputation was still strong; those who'd seen him play in Japan reckoned he still had the ability but uncertainty remained whether he could lift his levels to the furious physical pace of the Super 15.
The Blues shocked their hosts in the third minute when they made a mess of cleaning up some ball in their 22, Ma'a Nonu set a ruck, the ball went wide and new fullback Hadleigh Parkes dived over in the corner.
When Delany and Gear made their textbook move in the 12th minute to send Shaun Treeby to the line, this ninth-round game looked like developing into a try-fest.
However the rest of the half became a penalty shootout between Delany and Gareth Anscombe as referee Bryce Lawrence carved out his decisions when both sets of forwards battled away for the breakdown and maul metres.
The Blues bit into the Highlanders' small lead as Anscombe kicked three penalties in succession, though he missed another shot for the lead after halftime had been called.
The penalty pattern rolled on after the interval.
Then came what seemed to be an aberration in the match context.
Rene Ranger scored a try when he ran into space off a short ball from replacement halfback Piri Weepu and lunged out to plant the ball across the line.
It was a terrific entree from Weepu, who had just been brought on to inject some spice for the last 30 minutes.
It was also a strong play from Ranger whose handling and lack of accuracy during the match was not his best.

Highlanders 30
Tries: S. Treeby, K. Baker
Con: M. Delany
Pens: Delany (6)
Blues 27
Tries: H. Parkes, R. Ranger
Con: G. Anscombe
Pens: Anscombe (5).