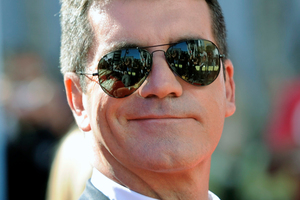 The eggs factor. No yolking matter. The yolk's on Simon.
Enough. That's about as far as I'm willing to delve into my dusty bag of cheesy puns.
The live finale of Britain's Got Talent took a surprise twist over the weekend, when a woman gatecrashed a performance and started throwing eggs at Simon Cowell and his panel of judges.
The woman - later identified as 30-year-old viola player Natalie Holt - ran from her place in the orchestra to the front of the stage as brothers Richard and Adam Johnson sang an operatic version of The Impossible Dream.
Walking between the pair, and armed with a carton of eggs and a whopping grin, she proceeded to hurl them one by one at Cowell, who was sitting on the panel with fellow judges David Walliams, Alesha Dixon and Amanda Holden.
Unperturbed, the singing duo continued with their performance, while the egg-hurler - who appeared as a contestant on the show last year as part of a quartet - was eventually dragged off the stage by security.
Following their performance, presenters Ant and Dec congratulated the singers for carrying on with the show, telling the audience: "We'd just like to point out that was not part of the performance."
Cowell, while removing his egg-smeared jacket, chimed: "I did actually send a tweet out yesterday saying I didn't like eggs. Now I really don't like them."
He continued, "I have no idea what that was about. So whoever is watching, I really do apologise. And I'm sorry for you guys because I thought she was throwing sandwiches at them."
Fellow judge Holden added: "The only person with egg on their face was that stupid cow."
'HIS DREADFUL INFLUENCE ON THE MUSIC INDUSTRY'
After the show was broadcast, BGT released a statement, saying: "During tonight's show an incident took place during the finale of Richard and Adam's performance.
"Natalie Holt was part of the backing group for their performance and as a result of her misguided actions the police were called. However, we have decided to take no further action at this stage," the spokesperson told the Daily Mail.
The show also released a statement from Holt, saying, "I want to apologise to Richard and Adam for overshadowing their performance. I've never done anything like this before and in hindsight I have realised it was a silly thing to do."
She told The Telegraph: "I basically took a stand against people miming on television and against Simon and his dreadful influence on the music industry."
Richard and Adam, who came third in the final, spoke to The Sun about the stunt.
"When she was throwing the eggs my mind played tricks and I thought we were in rehearsals, then I realised, no, we are on live TV," said Richard.
"Seven years the show has been going and this happens to us. We are gutted. Simon said 'I'm so sorry, you didn't deserve that. You did amazing'."
As for Cowell's final take on the stunt?
"I really don't like eggs," he tweeted yesterday.
Britain's Got Talent wrapped up its seventh season on Saturday, with a Hungarian shadow theatre group emerging as the winner.
NOTABLE NUGGETS
* "Happy Birthday to my best friend, the love of my life, my soul!!!!" - Kim Kardashian wishes Kanye West a happy birthday with a photo collage.
* Backhanded compliment: Liam Gallagher says he admires One Direction's Harry Styles, but thinks his music is "s**t".
* Scarlett Johansson suing over use of her name in book.
* Beyonce cuddles up to Blue Ivy in new holiday snap.
* "I tried it and I loved it. I really think she's a lovely beautiful person" - Russell Brand talks Katy Perry marriage.
* J.J. Abrams talks Star Wars plans.
* Minnie Driver has a few choice words for The Guardian.
* Naomi Campbell's alleged paparazzo attack prompts Italian court order.
* Happy Birthday, Johnny Depp! Actor turns 50.
* More rumblings that Katy Perry and John Mayer are back on.
Follow Myrddin Gwynedd on Twitter.
- Rumour Has It