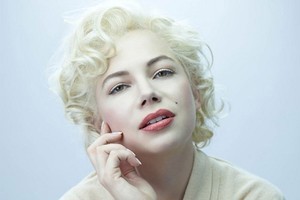 Boo boo bee doo: Michelle Williams takes on Hollywood icon and blonde bombshell Marilyn Monroe in the just-released official trailer for My Week With Marilyn.
The movie focuses on the events of a week in the summer of 1956 while Monroe filmed The Prince and the Showgirl with co-star and director Sir Laurence Olivier (Kenneth Branagh) in the UK.
Monroe spends a week gallivanting and enjoying the pleasures of British life with Olivier's assistant Colin Clark (Eddie Redmayne) when her new husband, playwright Arthur Miller (Dougray Scott), leaves the country.
A close bond quickly develops between Monroe and 23-year-old Clark.
"I wouldn't buy the little girl lost act if were you. I think Marilyn knows exactly what she's doing," warns Olivier as Clark falls for a troubled Monroe.
"She breaks hearts," echoes photographer Milton Greene (Dominic Cooper). "She will break yours."
Williams, 31, recently spoke to Vogue about the daunting task of tackling the role, revealing that she was inspired by a picture she had of Monroe on her bedroom wall.
"I had one of her in a field of trees in Roxbury, Conneticut," she said. "She's wearing a white dress and she's barefoot and she's got her arms spread and she's laughing.
"There was just something about that image of her - so lovely and joyful and free. I've always thought of her as that woman-child, not an icon, which is probably why I let myself approach the role."
She also revealed that at one point she attempted to bulk up for the part.
"Ultimately, it went right to my face," she told the magazine. "So at some point it became a question of, 'Do I want my face to look like Marilyn Monroe's or my hips?'"
She continued: "It felt like being reborn. It felt like breaking my body and remaking it in her image, learning how she walked and talked and held her head. None of that existed in my physical memory, and I knew I needed as much time as possible to make it part of me."
Read Williams' full interview with Vogue here.
She's nailed the hair, the bounce and signature wiggle, but does she truly capture the legendary Marilyn?
Check out the trailer below and judge for yourselves:
Watch: The Prince and the Showgirl trailer:
My Week with Marilyn also features Harry Potter star Emma Watson, Julia Ormond, Derek Jacobi and Judi Dench.
The movie, directed by Simon Curtis, premieres at the New York Film Festival on October 9.
- Blogger Bites Back