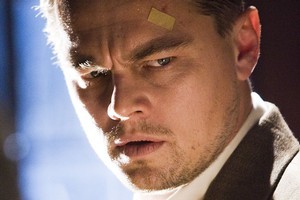 It's a wrap: After a whirlwind courtship and five months of PDA-packed globetrotting, Blake Lively and Leonardo DiCaprio have split.
Reps for the Gossip Girl actress, 24, and the Inception star, 36, confirmed the split to Us Weekly.
But, as is the norm when any hot Hollywood romance hits the skids, we're told the split was amicable, and they "remain friends".
The pair was first spotted together last November during a group dinner organised by director Baz Luhrmann. According to Deadline, Lively was on Luhrmann's shortlist of actors to play Daisy Buchanan in his current film project, The Great Gatsby. Carey Mulligan eventually bagged the role.
The actors then set headlines alight after they were snapped getting cozy and cavorting on Steven Spielberg's yacht during the Cannes Film Festival in May.
They also clocked time together while sightseeing in Italy, bike-riding in New York City, followed by a romantic pit stop in Disneyland.
And just last month, Lively jetted to Australia to visit DiCaprio as he toiled on the set of Gatsby. The pair was also spotted celebrating Lively's 24th birthday at a swanky Sydney eatery.
Said a spy: "[Blake] looked gorgeous and they looked very much like a couple. They seemed to be having a really nice time and were definitely enjoying the view."
News of the split may come as a shock to some of DiCaprio's pals, who observed that the pair appeared to be smitten, reports Us Weekly.
"[I have] never seen him like this with a girl," said one pal.
Another mate recalled a romantic interlude back in June while the lovebirds were shacked up in DiCaprio's L.A. pad.
"[Lively] spent the whole time baking ... Leo's never dated a girl who can cook. And he's smitten!" said the snitch. One insider even predicted: "I bet they get engaged in six months."
So what happened? There's been no official word on what drove the twosome apart. Although sources tell E! News that "distance and timing caused the split." That old chestnut.
Lively, however, isn't crying in her corn flakes and lamenting the end of the short-lived romance. She's already been linked to one of Hollywood's most eligible actors - Ryan Reynolds!
According to a report in the Boston Herald, the Gossip Girl star and Reynolds were spotted boarding a train from New York to Boston on Friday, where he's filming R.I.P.D.
They were later spied having dinner together at sushi restaurant, O Ya, in Boston's Leather District.
In tabloid terms, they're practically married.
No word from their reps on the latest tattle.
Rihanna says she's no role model
Good girl gone bad Rihanna says she's not interested in being a role model for her fans.
The Barbadian warbler hits up the latest issue of Vogue UK, and waxes lyrical about her raunchy image (she's not really that vampy, apparently), how she's scoring on the romance front, and her penchant for dropping c-bombs.
On being a role model: "See people - especially white people - they want me to be a role model just because of the life I lead. The things I say in my songs, they expect it of me and [being a role model] became more of my job that I wanted it to be. But no, I just want to make music. That's it."
On her stage persona: "That's not me. That's a part I play. You know, like it's a piece of art, with all these toys and textures to play with."
On her 'see you next Tuesday' slips: "It's funny. The word is so offensive to everyone in the world except for Bajans.
"You know African Americans use the n-word to their brothers? Well that's the way we use the c-word. When I first came here, I was saying it like it was nothing, like, 'Hey c***', until my make-up artist finally had to tell me to stop. I just never knew."
Meanwhile, the farmer who stopped RiRi from frolicking topless in his field last week has reportedly been bombarded with hate mail from some of the singer's grumpy fans.
Alan Graham told the singer to cover up after he spotted her peeling off her clobber and running around topless during the video shoot for We Found Love in Northern Ireland.
According to The Sun, some of Rihanna's fans have been less than complimentary.
He said: "I'm taking it all in my stride, it'll soon die down. To be honest, all this fuss has kept me back a bit. I've got straw to harvest that I haven't been able to finish yet."
Graham also said he'd received mail from fans asking to buy some of the corn in his field - which was touched by Rihanna during her rural escapade.
He added: "I don't think I'll be doing that, but maybe I'll name a type of grain after her."
And to prove he harbours no ill-feeling towards Rihanna, he's willing to ask her back to his farm for a tête-à-tête, "just so long as I know what she's wearing before the visit".
I've got just the outfit.
Kanye West, designer: Hot or not?
Rapper-turned-fashion-designer Kanye West celebrated the launch of his fashion range over the weekend.
West launched his first-ever collection during Paris Fashion Week on Saturday night, in front of celebrity pals, including Jared Leto, Lindsay Lohan, Mary-Kate and Ashley Olsen, and fashion heavyweight Anna Wintour.
But no sooner had the models hit the runway with his clobber, critics were furiously thundering their keyboards with their verdicts.
"Necklines plunged so precariously that they seemed a personal shout-out to J-Lo," wrote Christina Binkley of Heard on the Runway.
"Next season Kanye should get a tailor so clothes might fit," New York Times fashion critic Cathy Horyn tweeted. "Models swimming in some looks. Kills the hot look, no?"
Lisa Armstrong, Daily Telegraph: "Kanye West's fashion debut was like being subjected to an hour-long MRI scan - but not as much fun ... It was the equivalent of Karl Lagerfeld launching a hip-hop career: i.e. absurd."
While Women's Wear Daily was not as snippy, calling the show "neither triumph nor train wreck," noting, "it had the earnest veneer of a beginner, which was sort of endearing".
Naturally, the rapper had a few choice words for his critics during the show's after party. Or as WWD put it, he "launched into a stream-of-consciousness, obscenity-laced tirade".
And go: "This is my first collection. Please be easy. Please give me a chance to grow.
"This is not some celebrity s***. I don't f*** with celebrities. I f*** with the creatives in this room, the amazing people who spend every day of their life trying to make the world a more beautiful place.
"The amount of people that tried to get me a celebrity f***ing deal. They said, 'You need to do boot-cut jeans, or you won't sell.' Shut the f*** up ! Or Hedi Slimane in the motherf***ing Mercer, sitting with me, saying, 'Stop giving them your ideas, Kanye. Do your own thing.' Hedi Slimane! To feel so frustrated."
He added: "And I thank anybody who came to this party, everybody who supported, everybody who believed, because people thought it was a joke, and maybe people still do, but I can only grow from this point."
Reckon Kanye can cut it in the fashion world? Check out his debut womenswear collection here and judge for yourselves.
- Blogger Bites Back