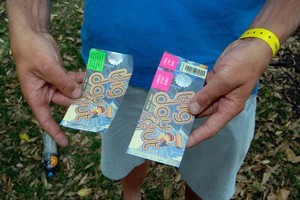 Concertgoers are being hit by scammers auctioning the same ticket a number of times on Trade Me. Event organisers and ticket sellers say music-lovers turned up to major summer events such as Rhythm and Vines and the Big Day Out with invalid and deactivated tickets.
Because e-tickets are emailed with only a barcode for verification, people buying secondhand do not know if they have bought a dud until the ticket is scanned by security staff.
Coromandel Gold organiser Peter Campbell said cases at the New Year's Eve event included a group of five who presented e-tickets that had already been scanned.
"It's amazing that Trade Me takes down auctions for counterfeit Nike shoes but will let people sell worthless bits of paper," Campbell said.
"Some people have paid $300 for those bits of paper. People foolishly enter into these deals online."
Campbell said a recycled e-ticket could be traced to the person who originally bought it.
His staff were investigating and hoped to bring the scammers to justice.
Rhythm and Vines customer service manager Fenella Stratton said there was a handful of incidents at the New Year event.
Some had unknowingly bought stolen tickets and others had bought a pass on Trade Me, only to find someone else had already used it.
Managing director of online agency iTicket, Reece Preston, said some people had even sold photocopies of e-tickets outside events.
He had also come across problems with deactivated tickets bought on Trade Me but said little could be done to stop it.
"We put things in the terms and conditions but we can't stop people selling on Trade Me. It's hard to police, you'd almost need a fulltime person hunting [online] for tickets."
Ticket Direct chief executive Matthew Davey said the benefits of instant delivery, transferability and convenience were a trade-off for security features on e-tickets.
"There's things like holograms and UV ink but you lose that with electronic ticketing," he said.
The company has used e-tickets since 2004 and said the problem was worse at venues and events that did not have allocated seating.
Trade Me trust and safety manager Chris Budge said reselling tickets was not illegal but recommended buyers took steps to ensure they were not ripped off.
"Look at the [seller's] feedback. If they have 100 per cent positive feedback and they're just selling one ticket it's likely to be okay," he said.
Budge said buyers should note the seller's address and car registration if they could get it, or keep a record of the seller's bank account number.