It's the time of the year we've all been waiting for. Paula Yeoman explains why and shares a few tips.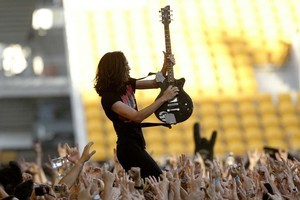 They don't call it the Big Day Out for nothing. The largest and most prestigious one-day music festival in the Southern Hemisphere stretches across eight stages.
Every January since 1994, rock royalty (from The Ramones, Patti Smith and Neil Young, to The Smashing Pumpkins, Coldplay and the Red Hot Chili Peppers) has never failed to pack tens of thousands of music lovers into Auckland's Mt Smart Stadium.
It is simply the biggest day of them all, but it also comes with a disclaimer - Friday's BDO is not for the faint-hearted.
Expect scorching sun beating down into a concrete jungle filled with 45,000 people, most of them sweaty, shirtless 20-somethings. Queues for the loos are horrendous and you'll be forced to drink warm beer while sitting on dusty ground locked in a cage.
And when it's all over and you've spent 14 long hours on your feet, allow an hour to fight through the fully baked crowds for a spot on a bus or train back to the CBD.
Don't let that put you off, though. Where else could you see Deftones, Lupe Fiasco, Plan B, The Black Keys, Iggy and the Stooges, Sia, Primal Scream - performing the classic Screamadelica - and M.I.A. all in one day?
It's also a great opportunity to catch New Zealand's finest, including Shihad, The Naked and Famous and The Unfaithful Ways.
We asked Kiwi musicians performing at the festival what acts they'll be seeing and to share survival tips for punters.
Jon Toogood - Shihad
I will check out M.I.A., Deftones, LCD Soundsystem, Die Antwoord and Grinderman. My advice - get yourself an all-access pass. Way better.
Emily Littler - Street Chant
I'll see M.I.A., Iggy and the Stooges, Tool, Surf City and Homebrew. Take the day pretty easy. Don't drink too much alcohol and don't get agro at the crowds. Remember to eat and wear sunblock. Don't wear a slipknot costume.
Simon Brouwer - The Unfaithful Ways
We are looking forward to seeing Nick Cave perform (Grinderman) and Primal Scream, although it seems they are on at the same time as LCD Soundsystem. Iggy Pop, Lupe Fiasco and Edward Sharpe and the Magnetic Zeros should also be worth a look. I've attended half a dozen Big Day Outs, so firstly check out the smaller bands. There are lots of good acts that aren't big names yet. Secondly, get there early to avoid the big queues and, as a bonus, you won't miss bands like us. Thirdly, drink plenty of water, use sunscreen and wear comfortable shoes. It sucks to be burned, have sore feet and a headache at5pm.
Filip Kostovich - The Earlybirds
I want to see Primal Scream, M.I.A., Iggy and the Stooges, Grinderman, The Black Keys, Edwarde Sharpe and the Magnetic Zeros, LCD Soundsystem and Lupe Fiasco. The only way to cope with the BDO is lots and lots of booze, sunscreen, flip-flops, Stubbies and a wife beater (singlet).
The Big Day Out is at Mt Smart Stadium, Auckland, on Friday. Gates open 11am.
- Herald On Sunday / View