Are you going to the Big Day Out? Click here to send us your Big Day Out 2010 photos to be featured online.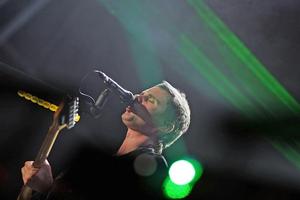 A 45,000-strong crowd soaked up the sun and atmosphere at the 16th Big Day Out music festival at Auckland's Mt Smart Stadium today.
The crowd's energy was unrelenting during the 12-hour event featuring a mix of international and local acts including Muse, The Mars Volta, Dizzee Rascal, Powderfinger, Jet, Kasabian, and many more over eight stages.
This year there was also a strong presence of mainstream female musicians with New Zealand's Ladyhawke and Gin Wigmore, and Britain's Lily Allen drawing the crowds.
As temperatures rose to a steamy 25degC during the afternoon the masses heaved to the big names in this year's line up.
Security guards sprayed water guns over the crowd watching Kasabian earlier today, while inflatable balls and giant inflatable jandals were bounced around.
There was plenty of other entertainment to check out around the stadium including fair rides, food, merchandise stalls and markets.
People travelled from around the country to soak up the atmosphere.
Scott Parker, 32, made the trip from Cambridge, Waikato.
"It's a great mix of bands," he said.
"Everyone seems to be having a really good time. There's a brilliant atmosphere and it's been fantastic so far."
Louise Fuller, 23, flew up from Christchurch this morning and said it was well worth the trip.
"I wouldn't have missed it for the world. It's such a great line-up this year and I'm loving it."
Paul McKeffar from CRF management said this year's event was a great success.
"There is a crowd of 45,000 and there's a great vibe."
St John said they were busy but no serious treatments so far.
Police had made 10 arrests by about 8.30pm, all for relatively minor incidents including trespassing and disorderly behaviour, Inspector Derek Davison said.
"We've had to arrest people who have been kicked out and try to come back in, but overall the behaviour has been very good."
This was in line with the past few years, he said.
"Last year we had 15 or 16 arrests."
- NZPA