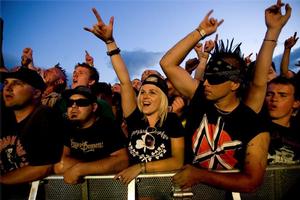 As the first editions of The Weekend Herald hit the streets, Big Day Out concert-goers will still be making their way home and businesspeople not in the know will still be wondering why so many of their younger staff called in sick this morning.
The Big Day Out is clearly one of the best examples around of how capitalism, globalisation and great marketing can combine to create a sound money-making machine and is well worth examining from a marketing perspective.
Pardon? Surely the Big Day Out is all about counter-culture? About giving the finger to Top 40 plasticised music, suburban white-bread lifestyles and rebelling against the evil soul-less corporations that seek to transform the world into one bland commercialised piece of sweet but insubstantial candy-floss?
Surely the Big Day Out is for the rebels who bow at the altars of Naomi Klein and Michael Moore; who follow Russell Brown rather than Russell Crowe and listen to Mikey Havoc rather than Mike Hosking?
From the Big Day Out website itself the BDO promoters describe themselves using terms such as 'misfits', 'notorious', and 'controlled kaos' (sic); and use 'edgy' graphics like dancing skeletons to further emphasise that this isn't a Britney Spears concert they're promoting.
Ironically, the BDO founding vision is cited as being 'uniting the shambolic independent music scene', citing bands such as Soundgarden, Metallica, Nine Inch Nails, Nirvana and the Chemical Brothers, all of whom have been signed to a major (i.e. non-independent) label at one time or another.
One could argue that in this respect, the clear commercialism of Britney Spears is actually more 'authentic' and 'honest' than the apparent affectations of the BDO brand position.
So how can an event that presents itself as being so strongly counter-cultural, anti-mainstream and independent in thought and action, simultaneously be a multi-million-dollar commercial success?
More to the point, how can its' customers (sorry, concert-goers) miss the contradictions and ironies outlined above or at least mutedly accept them? In an era when marketers are forever being told their brands must live and breath the values of 'authenticity' and 'honesty', surely the success of such a contradictory brand (especially with such a supposedly critical consumer base) is not warranted? These are fascinating questions facing both marketing and cultural analysts alike.
Fortunately these questions are answered by the Canadian researchers (and ex-punks) Joseph Heath and Andrew Potter in their widely acclaimed and highly readable 2005 book 'The Rebel Sell'.
Heath and Potter discuss how the counter culture is as much a part of the capitalist machine as Ralph Lauren and Nike, skewering everyone from the hypocritical Namoi Klein to the AdBusters culture jammers (who spawned Buy Nothing Day yet sell their own merchandise). The insights are an illuminating examination of the counter-culture movement and its predictable failure to truly 'smash the system'.
The first point that the authors make is that there is no 'system' to smash. Our society has developed over thousands of years and comprises a wildly complex array of institutions and behaviours that just manage to interact in order to fulfil human needs.
To this I add that these core human needs are simple enough as the desire to feel recognised for one's efforts and to secure a reliable and comfortable lifestyle, especially for one's children - hence the failure of communism, which works well in theory but fails through the inherent self-interest of human nature.
Humans can only succeed in social groups and social groups need a successful method of goods and services transactions to succeed - capitalism is here to stay, and the counter-cultural movement has yet to develop a viable alternative (a key critique of Klein).
Secondly, the very success of the counter-cultural movement (of which the Big Day Out is a local flagship) has only been because of the capitalist business-oriented culture that we live in. Any 'movement' or sub-culture, from 1950's beatniks through to hippies, punks, Goths, EMOs and metalheads, as well as homeopaths, New Agers, Linux-users, fair-traders or anyone else rebelling against the majority, can only succeed if people can first learn about them through the media (even then, the most subversive blogs still require mass-produced computers, software, ISPs, laws and electricity to work, not to mention the bloggers' government-funded education).
Then, once a counter-culture movement spreads, established retail channels allow counter-culture rebels to access the clothes, music, products and other accessories they seek - thereby supporting the very system that the 'rebels' are frequently trying to undermine. Bear in mind that spurning the products of big business for niche options only serves to create new markets.
In fact, the very ability of sub-cultures to survive and prosper within the dominant culture only proves the value of the system that they are vainly trying to undermine.
Some will argue that 'the system's' allowance of these counter-cultural movements to operate yet not actually change anything substantial only proves their true repressive nature - but Heath and Potter also note how counter-culturalists also fail to propose any viable alternatives.
Truth be told, achieving real changes in 'the system' means working from within, using its systems to change things - hence many activists (e.g. Sue Bradford) eventually join those in charge in order to execute real changes rather than staging yet more ineffectual pickets and petitions.
But this can be dull, hard work, and thus most counter-culturalists claim to be 'opting out' of the system through non-productive hedonism (sex, drugs and rock & roll), which gives the appearance of shocking authorities and the system out of its complacent control, without actually doing so or presenting a viable alternative.
Hence the counter-culture movement can be fun, self-affirming, and provide its members with a sense of purpose and community - just like the Rotary Club down the road. And just like the Rotary Club down the road, counter-culturalists still need a functioning capitalist system if they are to survive.
So the Big Day Out will revel in promoting independent thought and expression, and give those preferring 'alternative' music further proof that they are in the right; all the while using the electricity of 'the system', meeting the event requirements of the Auckland Regional Council, attracting customers through paid advertising that supports the likes of APN and Fairfax, and selling sponsorships to multinational brands such as Smirnoff, Jim Beam, Converse and Lipton.
The BDO has 700 people on the road, charters a 747 and this week's Auckland show will notch up its 97th event. As a category-busting product, the BDO shares more with Cirque du Soleil than Sweetwaters.
None of these facts are a criticism of the BDO company - as discussed above, such commercial operations are necessary for these events to flourish. But it raises the question - is the BDO brand authentic? Could 'true counter-culturalists' (whatever they are) attend without selling out their convictions?
Well, by comparison, the Woodstock and Altamont (Rolling Stones) free music festivals were definitely authentic and true to their calling, but were also disastrous messes in many ways - history aside I'd prefer a slick BDO event any day.
The saving grace for the BDO brand is that while the bands will often trumpet their politics and appear to live the rebellious lifestyle, the BDO organisation makes no effort to hide its commercial realities, they avoid overly 'commercial' pop acts, and focus solely on the music, not the politics. One has to conclude that the authenticity is truly there - it is an excellent brand.
Jonathan Dodd is a Research Director at market research company Synovate.