Are you going to the Big Day Out? Click here to send us your Big Day Out 2010 photos to be featured online.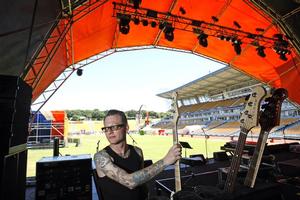 What: Big Day Out 2010. It's the 16th to be held in Auckland. There wasn't one in 1998.
Where you go: Mt Smart Stadium, Maurice Rd, Penrose.
When: Today. Gates open at 11am. Get tickets from TicketMaster.
Weather forecast: Cloudy, possibility of a few showers, maximum 23C. Southerlies.
Who'll be there: Up to 50,000 music fans, as well as Muse, Lily Allen, Ladyhawke, Groove Armada, Dizzee Rascal, Powderfinger, Gin Wigmore, Head Like a Hole, Kasabian, Devendra Banhart, and much, much, much more. There are eight stages.
What you should do: Drink plenty of water to prevent dehydration. Wear sunblock - cloudy weather does not prevent sunburn. Wear a hat. Wear ear-plugs if you are concerned about long-term hearing loss. Stay with your friends. Have a plan for getting home. Don't drink too much alcohol, and do not take or carry drugs.
How to get help: If you or anyone near you is distressed or in trouble, talk to security staff, St John Ambulance staff or police.
HOW TO GET THERE
Train: Special trains will run to Penrose Station on the Southern Line from Britomart and from Papakura until late. The trains will not stop at Newmarket, and will run only to Penrose. Return tickets are $10, available at Britomart and Papakura.
Extra services will run on the Eastern Line between Britomart and Otahuhu after the concert.
The Western Line is closed for maintenance. Rail services are replaced by buses, and there will be extra late buses between Britomart and Waitakere, from stop D18, at 11.50pm, 12.50am and 1.50am.
Bus: The BDO bus will run continuously from Real Groovy at 450 Queen St from 9am to 2pm, and will drop you off in O'Rourke Rd next to the stadium. Return buses will leave from gate B from 9.30pm to 1.30am and will drop you off at the Civic Theatre in Wellesley St.
Return fare is $15 or $10 one way, tickets from the bus driver. Go Rider cards not accepted.
Northern Express services will connect with trains at Britomart. Late Northern Express services will leave stop D1 at Britomart at 12.15am, 1am and 1.45am. NiteRider bus services run from the city from 1am to 3.40am.
Visit maxx.co.nz or phone (09) 366-6400 for more information.
Car: If you really must drive, be prepared to park some distance away and walk. Make sure all valuables in your car are out of sight.
GETTING AROUND
Get yourself oriented and find your bearings as soon as you get to the stadium. Find the toilets. Find the St John tent. Pick up a copy of the site map, and a show timetable. Enjoy.