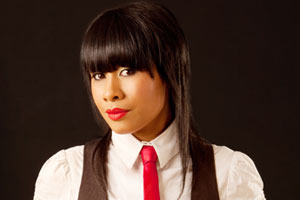 Iva Lamkum
The soulful voice of Iva Lamkum will take over Rotorua Stadium on January 23, when she performs with Sola Rosa at Ragamuffin. The Wellington-based singer will be in great company at the reggae music festival, with Lauryn Hill, Shaggy, Wyclef Jean and Julian Marley also appearing. Expect her on-stage style to be a blend of casual and elegant - and maybe even her signature tie.
Do your on-stage outfits differ much from your day-to-day outfits?
Very much. I feel like a different person when I'm on stage almost like "I am Sasha Fierce"! When running errands, hanging with mates and all, I prefer to kinda blend in with everyone.
Sometimes I feel sporty and like a bit of rugged wear. I don't think I would want to wear a tie during summer or dress to the extreme to be noticed.
What do you like to wear when you're on stage?
It sort of depends on what show I'm doing. Low key, I'll go for a casual look mostly I guess and if it's a big show or festival I may go half casual and half elegant. And, yes, I probably won't go on stage without a tie on! It was more of a comfort thing for me but I guess some people think it's a signature look, which is cool. But dresses? Maybe, depends if someone pays me to wear a dress on stage.
My most memorable festival moment was ...
I haven't had one yet actually. I think I've only been to two big festivals in my whole life! Parihaka 04 and Parachute 06 were pretty awesome but nothing major stood out for me to be honest. I'm sure at festivals like Raggamuffin and Rippon, which I'm looking forward to, something memorable will happen.
Your best festival fashion tip?
I can't actually think of one at the moment. Maybe wear what's comfortable to you? But then, beauty is pain, ha ha.
What's the biggest festival fashion mistake?
Wearing all black on a hot hot day during the Waitangi Day Concert in Palmerston North. Shocking. I was actually wearing black stockings too and basically it was my only stage outfit and I had no options but to wear it. I was honestly sweating like a mad pig. Crazy.
How does it feel to be a woman performing with a bunch of guys? Do you ever feel pressure to be the "girly" or fashion-y one in the group?
No pressure at all. It's wicked. I mean growing up with a lot of guys in your family makes it easy. I was one of the girls who never did the "girly" stuff when I was little. Maybe now, wearing heels and all. Jamming with guys is even better, plus the boys (Sola Rosa and Iva's own Band, The Pandas) are just like family and it feels like a holiday with these boys. They spoil you. Pretty cool man.
Who are your musical style icons?
Oh wow, um, I guess I've been a fan of old school jazz, military jackets, pulp culture, rock and tattoos. I'm very alternative. Frank Sinatra, Michael Jackson, Prince, Hayley Williams, Kat Von D (Tattoo Artist) and new artist SoShy are my top six, I guess. SoShy is definitely one of my new musical style icons. She's very stunning.
What can't you live without in summer?
My family and good mates. Phat laughs over Heinekens and Tuis! I look foward to hanging with my cousins and mates every summer cause it's so fun and so extreme. Sometimes it's annoying when they request songs for you to sing. Sorry guys, it's my night off.
What was the last item of clothing that you bought?
I bought a pair of lime heels over $100. Makes my legs slimmer - so you'll probably see me wear them at a festival.
Who does the best shoes?
Adidas make the best casual boxing kicks. They're my favourite shoes. Jeepers, there's so many I don't even know the brand for some of them. Jimmy Chew? Is that how you spell it? I think he makes the best heels. But I've always loved the three stripes and big ticks.
What music makes you feel like dressing up?
All types of music make me want to dress up. If I hear a country song, I want to wear my cowboy boots ... No, not really. I think music just makes you want to do random things in general. Definitely hip-hop music makes you want to play dress up.
Who are your favourite designers/brands?
I've just discovered Burberry's collection, very elegant but with a twist and I like how they use berry fruit styles in their collection. Very artistic and clever. Heatherette has been one of my favourite designers for a while now. I like their 80s rock styles and the way they interpret modern looks. Gwen Stefani's L.A.M.B collection is also one of my favourites. I like the whole urban mixed with rock looks that she designs. I'm kinda in between alternative looks right now.
Your most cherished item?
My most cherished item would probably be my skinny black Levi jeans. I have about four pairs of them. I can't live without them - even on a hot sunny day I'd still wear them! They're just so cool and they go with anything you wear.
How did you used to dress when you were younger?
My family's quite sporty so I guess it was like we never wore anything but sports brands and I wouldn't shop anywhere else unless it was selling adidas, Puma or Billabong gear. I guess I was always trying to be a flash guy when I was younger.
Nina Siegler
The Laneway Festival makes its way over to Auckland for the first time on February 1, with a wide range of indie artists set to perform at Britomart Square. Local band The Family Cactus will perform alongside international acts including Florence and The Machine, Echo and the Bunnymen and The XX. We talk to German-born Nina Siegler of The Family Cactus about her own quirky take on festival style.
Do your on-stage outfits differ much from your day to day outfits?
It really depends on the type of show we play and on how much time I've got to get organised.
For a Fashion Week show we played this year I was dressed by Lela Jacobs and was given some accessories from Madame Fancy Pants in Wellington which was very enjoyable.
But I usually just dress in my everyday clothes, 'cause it's all about the music and not about the things we wear.
What do you like to wear when you're on stage?
Not very much to be honest. I might throw some red lipstick on but that's about it.
What will you be wearing on stage at Laneway?
Hopefully some more Lela or maybe the cats from Twenty-seven Names will want to lend me something. But then you never know how the day will turn out so I'll just be spontaneous.
Oh hang on, and didn't I say it's all about the music? Sucker.
My most memorable festival moment was ...
Matthew's bourbon marinade at Camp a Low Hum two years ago. Incredible on barbecued lamb chops with bucket salad.
Your best festival fashion tip?
A very large sun hat and a portable fan.
What's the biggest festival fashion mistake?
Anything uncomfortable or synthetic.
How does it feel to be a woman performing with a bunch of guys? Do you ever feel pressure to be the "girly" fashion-y one in the group?
It feels pleasant to me. There is no pressure about that at all. Our drummer Kris likes to borrow my ripped Coca Cola top.
Who are your musical style icons?
Tom Waits and his gorgeous boots. Stevie Nicks and her floaty grace.
What can't you live without in summer?
My 50s swimsuit in bright red.
What was the last item of clothing that you bought?
A silky, stripy 80s jacket that reminds me a bit of Elaine from Seinfeld.
Who does the best shoes?
Italian people. Mogul make some great ones, too.
What music makes you feel like dressing up?
Currently: The XX.
Who are your favourite designers/brands?
I'm not too worried about these things to be honest. I pick out bits and pieces of old and new.
How did you used to dress when you were younger?
I went through lots of different phases. When I was 14 I dressed like some sort of a skater which then slowly turned into a hippie-type look with orange cardigans and wooden jewellery. Glad those days are over.
Pearl McGlashan
Pearl McGlashan is the vocalist for upcoming young Auckland three- piece band Bandicoot, whose on-stage attire is as fun and noisy as the music they play. "I wear the clothes I wear because I think they're fun and we're in a band because it's fun," explains the 15-year-old, whose dad just so happens to be Don McGlashan and whose mother is well-known choreographer Marianne Schultz. This Friday she will be opening the Big Day Out with her Bandicoot bandmates, bringing their spazzy pop to Mt Smart stadium. She tells us more about her musically influenced style, and why she can't live without sunblock.
What do you like to wear on stage?
Most of the time I look for the brightest and most colourful stuff that I can find. I like dressing my age on stage, because if you can't wear whatever you want at 15, I can't imagine you're going to later on.
Any style icons?
Karen O, M.I.A, Bjork, who all wear the most ultimately fierce things and always look kick-ass. And Zsa Zsa Gabor - okay that's kind of not true. Although one day I do aspire to be that glamorous.
What can't you live without?
Sunblock. Without sunblock, I'd probably get melanoma after being in the sun for about five minutes. As a wee fair-skinned girl of Irish descent, it is certain that I will never have a tan. At least, not a natural one. When I was little I used to dream of the day when I had so many freckles, that they joined up, and created that all-over bronzed look I so desperately desired. That day never came.
What was the last item of clothing you bought?
I think it was pair of 70 denier black tights from Smith and Caughey's. But before that, I found a second-hand orange and blue Nike sports jacket for $20, and an amazing velvet LBD for $10.
Who does the best shoes?
Most of the time I wear sneakers, so I guess Keds or Converse. However I do love Vivienne Westwood's designs for Melissa, they're gorgeous. Oh and I have some blue and white adidas that, I have to say are pretty sweet.
The best jeans?
That would have to be Bill Cunningham. Actually they're pretty high on my list of best things ever.
Your favourite shop?
Born to Lose, Live to Win, which used to be called Search and Destroy, at the back of St Kevin's Arcade. It welcomes all the pieces that the other vintage clothing stores around it deem too weird to sell, and lets you have them dirt-cheap. I got some yellow Mickey Mouse jeans there for $10 once.
What music makes you feel like dressing up?
Any music that's loud and exciting. If I'm getting dressed up for a gig I'd probably put on some M.I.A, or Beyonce, because they make me feel fierce. I also listen to a lot of OutKast, Lightning Bolt, Die!Die!Die!, The Mint Chicks and Dizzee Rascal. Music that makes me feel totally awesome. And totally modest ...
Most cherished item?
I have a coat that my mother bought when I was four years old and we lived in London. It's a second-hand brown coat, covered in white, pearly buttons, like the ones worn by the Pearly Kings and Queens in the early 19th century. Think Meg and Jack White on the cover of Icky Thump, or the cartoon band that play supercalifragilisticexpialidocious in Mary Poppins. It's gorgeous, it cost 3 and it finally fits me.
Is there anything you'd never wear?
Jeggings. Okay, I understand the need to wear tight jeans. It's fashionable, and everyone does it. But I think that the idea of making leggings that are made to appear like denim is a concept both misleading and terrifying. Paraphrasing the words of Beyonce, I do not think I am, nor will I ever be, ready for that jelly.
Favourite place to hang out and people watch?
I'm constantly people watching. Always. It's actually a little disturbing how interesting I find other people's tastes. I only wish I was better at it, and more sneaky, because I just end up creeping people out a bit. But I suppose, because I live close to town, K Rd is one of my favourite places to quietly observe. It just feels like it breeds originality.
Best way to recycle your old clothes?
Try altering them instead. Maybe you could still salvage the print, and make it into something new? If there's really no hope, see if your friends are interested, and if not give them to charity. The clothes, that is. Not your friends.
If money were no option?
I think I wouldn't be as interested in fashion. There's a lot of thrill to be had when you have to work for an outfit. It means more when you save up your money to be able to buy things. Often the cheaper you go the more interesting the clothes get. It's a question of whether or not you're willing to get your hands dirty.
Most stylish city?
I'd probably go with New York. I've been a few times because we have family there, but here at home I can still get my fix of eccentric, idiosyncratic New York fashion through Bill Cunningham's On The Street feature in the New York Times, which you can see online. He has an eye for the wonderfully dressed, and I am grateful that I get to share in his finds.
What's your biggest indulgence/guilty pleasure?
Bargains. I think it's an indulgence that's been passed down from my mother's side. Her grandmother used to go to K-Mart every Saturday and come back with something amazing. In fact, we have a pair of black silk gloves that she bought, with the $3 price tag still attached. Good score, great-grand-mom. My grandmother is the same. She shops all year round and has a basement full of junk.