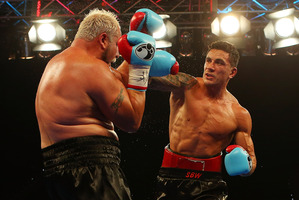 Note to self: Do not pay $39.99 to Sky for the Sonny Bill Williams-Francois Botha re-match, if it occurs.
Don't pay anything. Instead donate $39.99 to cancer research. Better to help foster a cure for that disease than try to encourage the terminal disease that has gripped boxing and bouts like this.
It's now crystal clear: it's all about the rematch. It's an old boxing trick - generate controversy in the first bout to build interest in the second.
What gives all the bunkum surrounding the Williams-Botha business away is the lack of accountability. The World Boxing Association? Nowhere to be seen. The Queensland branch of the Australian National Boxing Federation? They're having a meeting on Tuesday. They have to leave the dogs on the back of the utes and there's probably some debate about whether Castlemaine XXXX will be served or Fosters - brewed in Queensland these days but still regarded as a beer from a daylight saving state. All cane knives and piano accordions will be left at the door and anyone spitting on the floor will be forced to make the missus produce the scones for next time.
There doesn't seem to be a complaint being made to the police about the $150,000 Botha says he was offered to throw the fight. Wonder why ... It's clear why the supposed bribe, vehemently denied by Williams' agent Khoder Nasser, wasn't discussed before the fight. That would have ruined everybody's payday (if, indeed, it was true ... ).
Botha has decided not to protest the match-fixing he complained of because, he said, going up against Nasser in Queensland was like "going against Don King in Vegas". It'd also be biting the hand that feeds, but let's not get into that ... The ref, Tony Kettlewell, says he was told by Botha's connections that he'd refused a bribe.
Let's not even get into the strange disappearance of two rounds and the you-did-I-didn't accusations that Botha failed a drugs test taken by Nasser's brother or some other rellie.
Sigh. The incriminating evidence was supposed to have been found in urine - but what you find when you look at this whole, sorry business seems to be what bulls leave on the ground after raising their tails.
Where's the Australian government? Here's what Federal sports minister Kate Lundy had to say in the recent announcement that the government was moving to introduce tough new measures to crack down on the use of banned drugs and unethical behaviour in sport: "Today is about the integrity of sport in Australia ... If you want to dope and cheat, we will catch you. If you want to fix a match, we will catch you. And as you can see by the investigations that have taken place, that we are well on the way to seeking out and hunting down those who will dope and cheat."
Hey, Kate, there's a bout in Queensland that just might tick a couple of those boxes ...
Perhaps her 'out' is that, whatever this is, it isn't actually sport. Boxing, God knows, still has genuine bouts and the few of us who enjoy it still regard it as one of the last great sporting contests. It harks back to our primitive past and with a kind of savage nobility invested in the mano a mano aspect and, for real performers and aficionados, the skill.
Boxing coming under suspicion of being fixed and/or fans, broadcasters and others being manipulated for profit is hardly new. But rarely have we been subjected to such blatant mockery.
For the first SBW fight against Botha, I shelled out $39.99 to Sky, on the basis that I couldn't in all conscience argue that the Herald on Sunday should foot the bill for something I'd watch anyway.
The next one may have to be charged to the company. It will be 'work', in all sense of the arduous meaning of the word. Watching it for fun after all this ludicrous carry on? Here's a small list of things I'd rather do:
• Eat snot
• Get paid by Novopay
• Watch endless re-runs of the worst TV show ever - the 1990s' Beat The Crusher, where contestants, as well as being humiliated by hugely unfunny UK comic Freddie Starr, tried to win a new car by wagering their existing cars. The winners got the new one while the losers had their car flattened in a car crusher and they were given the bus fare home.

Boxing has long suffered from the crooked and the greedy. You can go right back to the second Muhammad Ali-Sonny Liston fight in 1965 and the so-called 'phantom punch' with which Ali hit (or didn't hit) Liston but the "big old ugly bear" fell over anyway.
It was strongly suspected (but never proven) that Liston was on the take, as he had Mafia connections. Conspiracy theorists had a field day when Liston died of a heroin overdose a few years later, despite no previous connection to drugs and an almost pathological fear of needles.
Closer to home was the Danny Green-Paul Briggs cruiserweight bout in Australia in 2010. New Zealand-born Briggs went down as if shot after 29 seconds of the first round. The punch seemed only to have brushed him.
Green was embarrassed enough to take the ring microphone and tell the packed stadium: "Chill out. No one is as pissed off as me, believe me. He ain't even a canine," Green said of Briggs. "Paul Briggs [isn't] getting paid a cent. That's criminal what he just did. I apologise to you on his behalf. I can't say any more. I will make it up to you on that canine's behalf."
Briggs was fined $75,000 by the Western Australian Combat Sports Commission, lost his registration as a boxer in the state and has not fought since.
There is no such commission in Queensland and as yet no hint of any sanctions against anyone - meaning the hopeless schemozzle of deceit or confusion may never be untangled.
And that's the shame of it. Whatever you think of Sonny Bill Williams, his catch-cry until now has been that he wanted to be the world's greatest cross-code athlete. Many people wanted to believe. The Botha fight seemed to be a step up; a rung on the ladder of boxing credibility.
Now it just seems a sick joke. It'll be even sicker if there's a rematch in South Africa.
So, no thanks, SBW, Botha, Nasser and Sky. I'd rather watch the new TV offshoot of Embarrassing Bodies - Embarrassing Boxers. Oh, that's right, I already did ...