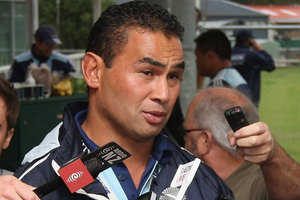 Amid all the backbiting, angst and bed-wetting about the Blues, some dodgy statistics were delivered about their pedigree.
Whatever your rating of the franchise and their inability to rise above the mediocre since their last Super title win in 2003, the Blues have produced more All Blacks than they have been given credit for.
In the eight years Graham Henry coached the All Blacks, the Blues contributed 15 new players to his squads.
That compares with the Chiefs and Crusaders who each had 16, the Hurricanes with 15 and the Highlanders with 11.
Some want to break that figure down into provincial representation and point out that Auckland has delivered only one new All Black - Benson Stanley - since 2006.
Maybe, but test rugby these days is judged on performances for one of five franchises.
It is very rare for any player to be plucked from the provincial series for the black jersey.
So while the Blues' results have been patchy since 2004, they have kept pace with their franchise compadres in All Black recognition.
Now there is mention of Henry ramping up his work with the Blues.
He has a brief with the NZRU as a sounding board and adviser to every franchise among his growing consultation repertoire with other sporting codes.
NZRU chief executive Steve Tew mentioned Henry's input as one way of helping the Blues claw their way out of their plight.
But he also mentioned that neither the NZRU nor Blues wanted Henry to take over the troubled side.
Amen to that. Pat Lam is into his fourth year coaching the side and Blues officials, the coach, his assistants and players need to be judged on what they can produce.
Lam is finding it difficult to breathe these days but that is all part of coaching. If his methods and results do not stack up then change can be effected.
But if there is a murky hybrid Henry-Lam coaching arrangement, accompanying shadowy theories will emerge about input, impact and responsibility.
The Super 15 is as much an examination of coaches as it is of players, for their ability to rise to the next level.
While there is generous acclaim for Henry and his coaching deeds, he came within a whisker of a rugby Chernobyl last October.
He escaped, took the plaudits and decided to move on.
If he wants to coach again, Henry could apply for duty next season.
However New Zealand rugby needs the next level of coaches to strut their stuff, they need room and time to develop as much as the players.