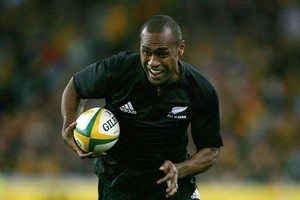 The Fijians should have been hopping mad after getting belted by the All Blacks.
Three All Black tries were open to question - not that there is much serious questioning when a Pacific Island country gets a raw deal against a rugby superpower.
Fiji needed to make Dunedin a battleground by opening a PR war to change the subconscious thinking among referees. The whistlers are conditioned to believe certain teams are better than others and rule accordingly, in a sport where interpretation is nine-tenths of the law.
Pacific Island teams are stereotyped as poorly disciplined, so penalties and yellow - or even red - cards against them are seen as supporting evidence rather than matters for debate.
Stu Dickinson awarded a highly dubious penalty try against Fiji on Friday night. The Fijian scrum was in retreat, but no obvious offence was committed, and Dickinson didn't provide any details.
You can bet your bottom dollar the penalty try would not have been awarded against a top country. Further to this, one All Black try was preceded by a blatant Mils Muliaina knock-on. Another similarly looked doubtful.
Fiji and the other small rugby nations must fight their own battles because no one else will.
Winning a fair deal from referees could be just as important as cash handouts from the IRB. Footing it on the world stage will do more for their game than anything else. They need to make a song and dance. They need to do what coaches of major teams often do, and put pressure on the referees.
They need to ensure that the little things that add up to big things go in their favour more than they do now.
SNORING TIMEBOMB
Sitiveni Sivivatu ranks among the most difficult assignments for any selector. The Fijian wizard is a snoring timebomb. He can appear half asleep for half a season or even half a game, then suddenly burst into life.
You could hardly blame the All Black coaches for dropping Sivivatu after his awful Super 15 form, and yet he remains a potential World Cup matchwinner.
Dropping Sivivatu from the initial All Black squad, then immediately restoring him for players already injured, was a motivational masterstroke. Maybe Graham Henry always planned it that way.
Sivivatu is an enigma though - his form can be nigh on impossible to gauge, yet the inside word is coaches treasure the way he reads a game.
He was sharp and industrious against Fiji, but you still can't be sure that he's up to bigger assignments. The way he trundles back in defence makes you want to scream.
Even as one of his biggest fans, I still wouldn't completely trust Sivivatu going into a major World Cup game.
WALLABIES' POLE POSITION
Australian coach Robbie Deans has found the answer to one problem - goalkicking. James O'Connor has emerged from the pack of duffers to grab pole position when it comes to aiming at the poles.
ITM CUP KIND OF WORKS
The compacted ITM Cup draw this season is one crazy piece of work - and yet it kind of works. We in the media might pontificate about the over-saturation of rugby, and yet wall-to-wall footy suits many fans.
The ITM Cup has a few major points in its favour:
* The football is often open and entertaining and looks like rugby the way we used to know it, or the way we think we remember the game.
* It satisfies the parochial aspect and our traditional tribalism in a way that the Super 15 combos often fail to do, although it has more of a reserve-grade image these days.
* A lot of fans prefer daytime rugby which encourages better games because the lighting is superior, the temperature warmer, and less moisture is about.
The Ranfurly Shield clash in Christchurch on Saturday was a ripper and a contender for the best game of the year. The successful formula should set the NZRU thinking. The smaller the venue, the better the ITM Cup games work. Big stadiums with sparse crowds are depressing.
The Ranfurly Shield clash was all the better, I would argue, for being held at Rugby Park rather than AMI Stadium. The ground felt alive, and the players responded.
Moving north ... Perhaps Eden Park No 2 could be developed as a boutique football ground, perfect for the ITM Cup, the Warriors' NRL matches and a few Phoenix/All Whites games. A situation like this exists at Twickenham, where the Stoop, a 15,000-capacity ground, hosts Harlequins home games.
The people who run Auckland might also reconsider the situation at Western Springs, cross speedway's palm with silver, build a mid-sized football stadium there and get sport humming in this city again.
Western Springs was to have been home to the Warriors, before the deal fell over in a mysterious turnaround in the mid-1990s.
SALUTING SOUTHLAND
Congratulations to Southland for lifting the Ranfurly Shield, and to captain Jamie Mackintosh for an excellent interview after the match. He reminded everyone of the troubles Southland rugby had been through, and the significance the Shield win would have in turning things around.
SEEING RED OVER BOOTS
Conservative souls are seeing red over the colour of the All Blacks' boots. You could see this coming, and we all have trouble moving with the times at times.
But move you must, troops - the world is an evolving place. Kids love colourful boots - end of story.
There was once a time when the smallest of tattoos could cost a person their employment, whereas now people from all walks of life have learned not only to celebrate body art, but that it carries lessons about individual freedoms and expression.
Fluoro boots are another form of expression for people these days.
And anyway, New Zealand is overly obsessed by the colour black, both sporting-wise and sartorially. Those bright boots better reflect our Pacific neighbourhood. And finally, let's face it - all sports have to keep the sponsors happy to some degree.
WEEKEND WINNER
Southland rugby - the Ranfurly Shield match in Christchurch stirred the blood.
WHAT TO WATCH

John Smit's Springboks are coming, although they don't look the real deal on the evidence of Saturday night's test against Australia.