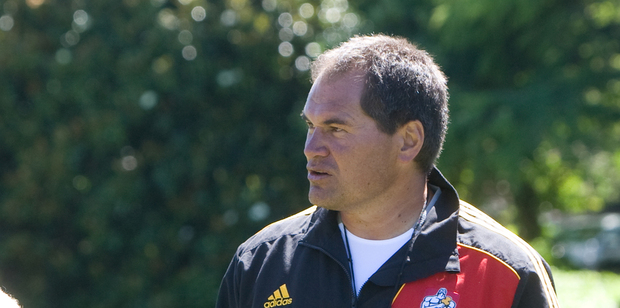 Every Chiefs player bought into Dave Rennie's way, even Sonny Bill Williams. Photo / Stephen Parker
They have the award that counts - a Super Rugby trophy - but the Chiefs and their coach Dave Rennie failed to win over the New Zealand Rugby Awards judges and it's hard to see what more they could have done.
Their effort this year in claiming the first title in the franchise's history was a triumph built on selection, team-work and coaching, yet the judges overlooked the Chiefs for team of the year and Rennie for the coach award in favour of the All Blacks and Steve Hansen.
They even failed to win player of the year - Hurricanes skipper Conrad Smith beating Chiefs co-captain Craig Clarke and outstanding first-five Aaron Cruden to that honour.
Being overlooked will hardly worry the players or Rennie but their supporters are likely to be less forgiving.
Hansen did well at the All Blacks this year in his new role but the Chiefs had an entirely different coaching panel. Rennie, the former Manawatu coach, teamed with former All Blacks coach Wayne Smith and Waikato stalwarts Tom Coventry and Andrew Strawbridge and set about building something a little different.
Whereas Hansen and his assistants had to deal with the pressure of expectation as newly crowned world champions, they had a fairly compelling history and culture to fall back on.
The Chiefs had none of that but every player bought into Rennie's way, even Sonny Bill Williams, who thrived in Hamilton.
A clue to how the management achieved that can be found in an interview with Smith this year in which the former teacher explained how he turned the Crusaders' environment around. Arriving just after they had finished last in the inaugural 1996 tournament, the then new Crusaders coach's focus on selection and environment took his team to mid-table in 1997 and they were champions a year later.
Smith said the key was to create a "cult-like environment".
"A cult-like environment is not for everyone, and you soon find that out," he said. "But for those who are prepared to commit to it, it can be a great experience, which it was for most people who came in. It was an environment which let people be themselves but also flourish and grow their game. Probably the biggest secret is to put as much work into the environment as into performance, make sure it's right so everyone's aligned and buying into the same things."
Before Rennie, Smith and Co arrived at the Chiefs, the team usually finished the season early. Their one moment on the big stage had been making the final against the Bulls in Johannesburg, a match which ended in a 61-17 rout.
This year, though, they accounted for the Crusaders in the semifinal before beating the Sharks in a one-sided final. They got the best out of SBW, who had a remarkably injury-free season, and his combination with Cruden was spectacular.
They coped with the demoralising round one loss to the Highlanders, and the long-term injuries to four players that went with it. They coped too with the loss of Richard Kahui to an injury which occurred in a defeat to the Reds in Brisbane.
They overcame adversity and turned on the razzle-dazzle. It was an epic achievement, which just one award could have recognised. It's a pity the judges weren't believers.
- APNZ