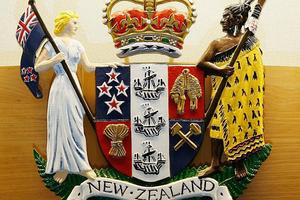 Name suppression has continued for a 19-year-old Eastern Bay woman charged with suppressing evidence relating to a child in Child, Youth and Family care being admitted to Whakatane Hospital in a hypothermic state.
During the woman's appearance in the Whakatane District Court today (Tue), police withdrew a charge of wounding with reckless disregard and replaced it with one of suppressing evidence in order to enable Eunice Towns to avoid conviction.
She entered a guilty plea to the charge and was remanded on bail for sentencing in the Whakatane District Court on March 6.
Judge Louis Bidois granted interim name suppression on the new charge and told the woman's lawyer, Rebecca Plunket, she would have to file submissions regarding further suppression for the woman's next appearance.
"It can be fully traversed at that time," Judge Bidois said.
The charge against the 19-year-old stemmed from an incident on May 11 last year after Eunice and Stephen Towns, aged 42 and 52 respectively, were approved Child, Youth and Family caregivers for three children under 3.
Both Stephen and Eunice Towns admitted abusing the boy over a five-week period. On January 9 Eunice Towns pleaded guilty to a charge of causing grievous bodily harm and Stephen Towns pleaded guilty to a charge of assault.
A police summary of facts said that on May 11 Eunice Towns became angry with a 2-year-old in her care.
She put the child in the shower and ran cold water over him while he was in a seated position for more than five minutes.
At 10.50am, an hour after the shower, the 2-year-old's condition deteriorated and an ambulance was called.
At Whakatane Hospital it was established the then unconscious toddler had a core body temperature of 31.6 degrees celsius, which is life-threatening hypothermia.
A total of 73 bruises and 10 abrasions were also seen on his body.
Police said Stephen and Eunice Towns had given the child cold showers a number of times, sometimes up to three a day for up to one minute to correct his behaviour.
Both Stephen and Eunice Towns had also started using excessive levels of force when grabbing the child and had started smacking him on his legs and bottom. Sometimes, when the 2-year-old refused to do as he was told, Stephen and Eunice Towns would forcibly push him causing him to fall to the floor.
Both will be sentenced in the Tauranga District Court on February 18.
For more articles from this region, go to Rotorua Daily Post